Kurt Loder Reviews Sin City: A Dame to Kill For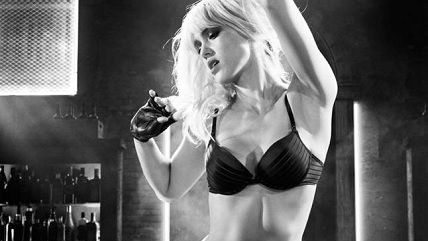 Not a lot has changed in the nine years since our first visit to Sin City. Guns still bark; men still crumple and bleed; and the women still dress like hookers, when they dress at all. The night is black (it's always night) and the rain still stylishly persistent. 3D has come to town, but apart from that it's the same rotten place we remember—fun at first, and never less than ravishing to look at. But long before it's time to leave, we've started to feel as beaten-down as many of the characters.
Writes Kurt Loder, A Dame to Kill For isn't much more than a reprise of the original Sin City, with all of its shadowy atmosphere, gaudy dialogue ("the pavement rises up to give me a big sloppy kiss") and snarling brutality. Filmmaker Robert Rodriguez once again re-creates the hard-boiled imagery of Frank Miller's groundbreaking comics with obsessive fanboy fidelity.