Eric Holder Heads to Ferguson to Fix Everything, Ice-Bucket Challenge Rules the Internet, Teachers Unions vs. Police Unions in NYC: A.M. Links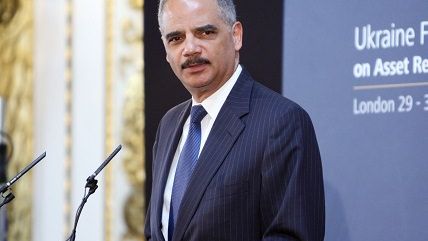 Wikimedia Commons

Attorney General Eric Holder will visit Ferguson, Missouri, on Wednesday, so that whole problem is just going to go away immediately, probably.

A curious feud between New York City teachers union leadership and the police department is raising eybrows and tensions among the rank-and-file of both fields.
The Washington Post's Michael Gerson writes that Rand Paul is the wrong Republican to talk about racial issues because… (cue things libertarians have heard a billion times).
The runaway success of the ice-bucket challenge is inspiring other charities to ask people to dump cold water on themselves for the good of humanity.
Pardon me, but we need more presidential pardons, writes The New York Times editorial board.
J.K. Rowling issued another Harry Potter short story, again, as a tactic to drive traffic to the online Potter experience, Pottermore. Sounds like "Harry Potter and the Neverending Promotions," huh?
Follow Reason and Reason 24/7 on Twitter, and like us on Facebook. You can also get the top stories mailed to you—sign up here.