Midnight Curfew Approaching in Ferguson, Missouri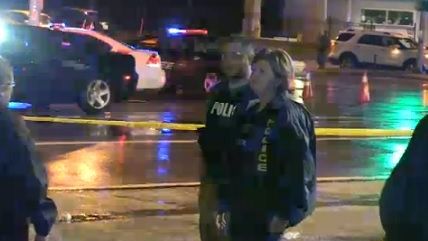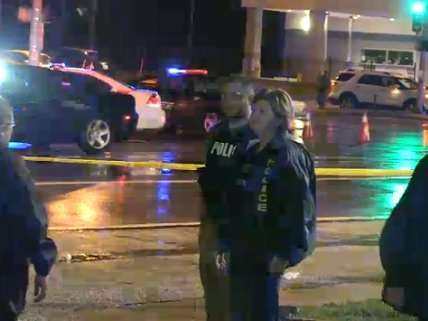 UPDATE: It's 12:00a.m. in Ferguson, which means its curfew time. Antonio French, a St. Louis alderman whose been covering the protests on Twitter, says protesters who want a confrontation with police are congregating at the Red's Barbeque. Looks like he's sticking around so you should follow him if you aren't already.
Original story below…
Missouri's governor ordered a curfew for the entire town of Ferguson, which is supposed to be in effect from midnight CDT to 5:00 a.m. Democrat Jay Nixon sent the Missouri Highway Patrol into Ferguson on Thursday to take over policing protests that had occurred every day since the shooting of Michael Brown last Saturday afternoon. Following several days of a militarized police presence which included cops throwing tear gas at protesters and into residential neighborhoods, Thursday night featured the decidedly un-militarized looking highway patrol monitoring protesters. On Friday, Ferguson police released the name of the officer who shot and killed Brown, as well as surveillance video purporting to show Brown robbing a corner store a few minutes before he was killed. Police admitted later that same day that the officer's stop of Brown and a friend walking in the middle of the street wasn't related to the robbery. Unsurprisingly, protests on Friday night were rowdier. Despite attempts by some demonstrators to prevent rioting, several businesses in the area were looted.
Today Nixon ordered a curfew for midnight, ostensibly to prevent more looting but effectively depriving residents of the right to assembly. In a way the curfew can be seen as a bit of collective punishment. A few criminals caused some trouble last night and tonight the governor is making the entire town pay for it. In some cities curfews, almost exclusively limited to young people, are popular, popular enough at least not to be challenged as policy. And they've led to incidents of police brutality before. According to accounts on Twitter, the crowd out tonight is skewing younger, with some saying they wouldn't obey the curfew. It's also been raining tonight, which likely would've put a damper on protests in Ferguson had it not been for the imposition of a curfew there to defy.
Anyway, you can watch a livestream from Argus Radio here, and another from Credo, via Youtube, below
You can read Reason's coverage of events in Ferguson here.