Who Will Be The Independents' Top 10 Enemies of Freedom?
Over the past two weeks The Independents has been counting down our eerily familiar list of 25 "Enemies of Freedom." Here's what we've tallied so far: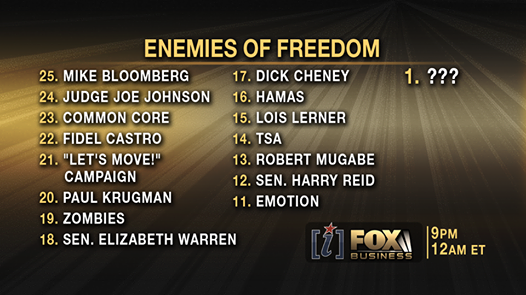 On Wednesday's episode we talked about #s 13-11:
Well, tonight on Fox Business Network at 9 p.m. ET, 6 p.m. PT (with re-airs three and five hours later), it's Top 10 o'clock! Who will these dastardly do-badders be? IT'S TOTALLY TIME FOR A COMMENTS CONTEST.
Fill out a list of 10 guesses in the comments below before showtime, and the winner will get a trebly autographed copy of…whatever you want (within reason)! A pic, a book, a copy of a magazine, a paper plate from the Fox cafeteria, you name it. BUT YOU HAVE TO COMPETE. Because life is a competition, winning is the only thing, and there's no business like show businss. Also, if you're just submitting entries with new screen names under the same IP address, BZZZT!
Hints? Well, I don't know if it helps, but our guests will include Townhall Political Editor Guy Benson, Forbes columnist Rick Ungar, Cato Executive Vice President David Boaz, and, uh, Nina Khrushcheva. Remember, this ain't science, but it is an attempt to have some fun with the unfuns of the world—yes, there will be a game during the show's halftime—and, well, we could all use some levity after a week like this.
Hurl insults at The Independents on Facebook, Twitter, or right the hell here. And click on this page for more video of other enemies!