A.M. Links: Fifth Night of Protests in Ferguson, Mo., U.S. Says Yazidis Mostly Rescued From Mount Sinjar, Next Step Toward Robot Revolution Taken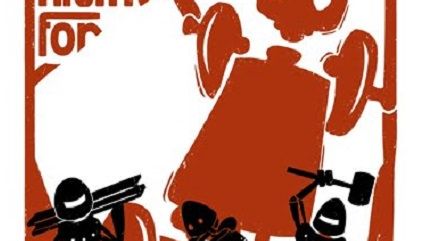 ufunk.net

Protesters in Ferguson, Missouri demonstrated for a fifth straight night against the police shooting of 18-year-old Michael Brown over the weekend, with police remaining mostly calm. The State Highway Patrol has assumed responsibility for monitoring the protests and is also overseeing the local police force. Vigils were alo held for Michael Brown in 90 cities, with protests over Brown's killing, and local incidents of police brutality, in places like New York City, Washington, DC, and Baltimore. The Department of Justice has begun to interview witnesses to the shooting. The Ferguson Police Department plans on releasing the name of the cop who killed Brown later today. An "Anonymous" group on Twitter released a name yesterday, but it was of a police dispatcher in St. Ann, Missouri, whose stepmother now fears for his life.

Most of the Yazidis trapped by the Islamic State on Mount Sinjar in Iraq have escaped through a corridor set up by Kurdish and Yazidi fighters. After Special Forces conducted a recon mission at the mountain, the United States says there are less refugees left there than previously believed and said it was unlikely that the U.S. would launch a mission to rescue them. Yazidi leaders dispute this, saying there are at least 10,000 refugees left on the mountain. Iraqi Prime Minister Nouri Al-Maliki, meanwhile, finally agreed to hand over power to his nominated successor.
Two leaders of the pro-Russian separatists in eastern Ukraine have resigned as Ukraine's armed forces appear to be gaining the upper hand in the conflict. A convoy from Russia purporting to carry humanitarian aid to Ukraine is parked on the Russian side of the border.
David Gregory will be replaced by Chuck Todd as host of NBC News' Meet the Press.
Major League Baseball's chief operations officer, Rob Manfred, was selected as baseball's newest commissioner.
Scientists at Harvard have developed miniature robots that can swarm by the thousands, displaying how simple complex self-organizing behavior can be.
Follow Reason and Reason 24/7 on Twitter, and like us on Facebook. You can also get the top stories mailed to you—sign up here.