Pro-Gun Milwaukee Sheriff Beats Bloomberg-Backed Challenger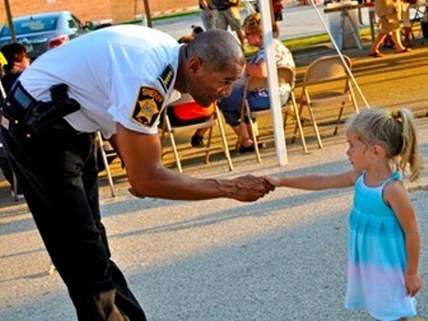 Milwaukee County, Wisconsin, Sheriff David A. Clarke, Jr., made waves when he urged the public to consider purchasing firearms and getting training so that they'd be able to defend themselves against criminal attacks. He even taped public service announcements to that effect. "Consider taking a certified safety course in handling a firearm so you can defend yourself until we get there. You have a duty to protect yourself and your family," was part of the message in one.
Unshockingly, gun-banners were displeased by the sheriff's stance. The likes of Michael Bloomberg poured hundreds of thousands of dollars into the Democratic primary race to back his challenger, Milwaukee police Lt. Chris Moews. In the end, they blew their cash as Clarke won the nomination and, effectively, the general election.
Writes Georgia Pabst at the Milwaukee Journal-Sentinel:

Milwaukee County Sheriff David A. Clarke Jr. edged Milwaukee police Lt. Chris Moews early Wednesday in a Democratic primary race that drew national attention and more than $600,000 in outside spending.

Clarke led by more than 4,700 votes with just the absentee ballots in the city of Milwaukee left to count, and shortly before midnight, Moews refused to concede. Shortly thereafter, Clarke told supporters he felt good about his chances but would not declare victory until all ballots were counted.

"We like where we're standing right now," he said.

When the last of the absentee ballots were counted early Wednesday, Clarke had beat Moews by 4,644 votes.
Bloomberg's own political action committee put more than $150,000 in the race against Clarke, without effect. Another group put $400,000 against him.
Clarke received outside support, too, though in far smaller amounts.
While Sheriff Clarke is very good on the right of self-defense, he's not a libertarian dream. His office has enthusiastically used asset forfeiture proceeds on toys and junkets, and he touts the "tough on crime" credentials that you usually get from a career cop, and which often mean prisons filled with non-violent offenders and police empowered with troubling authority over the community they supposedly serve.
But his support for self-defense is a pleasant surprise, and it's obviously appreciated by the voters, too.