No Clever Innovation Goes Unpunished: Maine Shuts Down Really Awesome Food Boat (UPDATE: Reprieve!)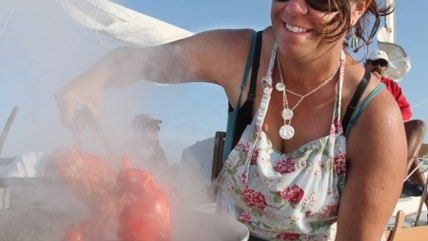 (Joel Page/Press Herald Staff Photographer)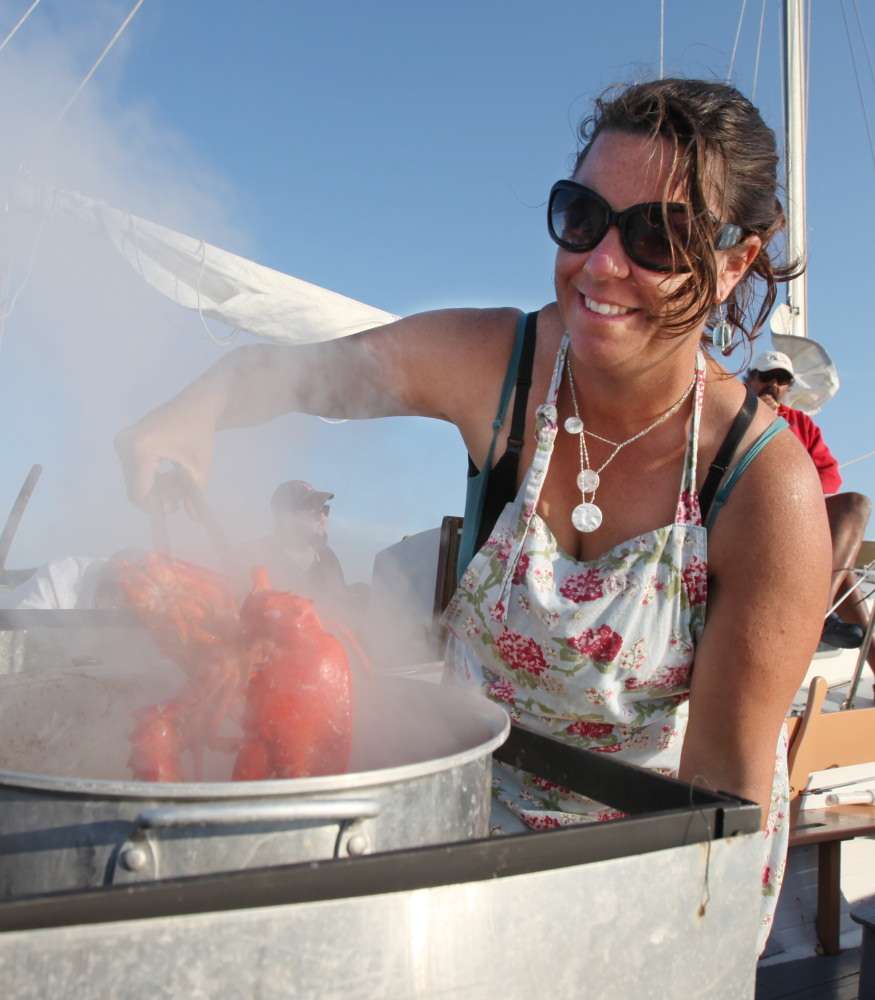 The Portland (Maine) Press Herald had a fun slice-of-life feature on their hands. They found a woman, Reilly Harvey, who takes a small boat out into the state's waters full of delicious homemade pies and entire lobster dinners to sell to boaters. Here's a quick, mouth-watering description:
The desserts were just the beginning. Harvey's boat, Mainstay, is rigged with a three-burner propane stove set in the stern, and three pots sat waiting for lobster, clams and butter, all of which Harvey had aboard. There were tubs of cauliflower-curry tofu salads with yogurt-lime-cilantro dressing and homemade biscuits that had come out of the oven less than an hour ago. Very deliberately, Harvey tries to make Mainstay look like a boat you'd see on a Venetian canal, loaded down with beautifully arranged wares. She'd succeeded. The vase full of flowers tipped the whole thing over the top. Her new customers couldn't stop gushing. "This is like a Fellini movie," said Peter Polshek, as the dog made a valiant attempt to board.

By now his wife, Nina Hofer, was perched on the gunwale of the Adeline, smiling like the Cheshire cat, her hands clapped together in glee. "Who are you and where are you coming from?" she asked Harvey.
I want one to show up here right now, even though I'm about eight miles from the Pacific Ocean, very, very far away from Harvey. She started her business in 2012, looking for a way to build a stable life for herself in the area. The Press Herald thoroughly profiles her background and tags along as she serves happy boaters thrilled at the opportunity to buy fresh food without having to leave the water.
The day after the story appeared in the newspaper it was over. The state shut her down. There are rules, man! Where are her sinks? She has to have running water! From the Press Herald's follow-up coverage:
"It makes me feel sick to my stomach and sad," said Reilly Harvey, who runs Mainstay Provisions out of an old boat she keeps on Andrews Island. Harvey said she was contacted by a state health inspector and told she must pass health inspection standards for mobile vendors – think food trucks – and get her vintage 22-foot wooden launch, the Mainstay, fitted with sinks and hot and cold running water if she is going to continue to serve hot food.

That licensing would happen through the Division of Environmental Health's inspection program. If she wants to continue to serve desserts, she must pass an additional inspection by the Department of Agriculture, Conservation and Forestry.

There are only 3½ weeks left in her season. Unless she is able to comply with the regulations, it is unlikely she'll be able to operate Mainstay Provisions as usual in 2014.
The state requires her to add to her little boat a three-bay sink and a separate hand sink, and must have hot and cold running water and follow the same rules as food trucks. They also complained about her being barefoot in the boat. They've offered to "expedite" her application as soon as she gets one in, though it's unclear in the story how her small boat could meet these requirements. It sounds like she may be done, at least for this summer season.
(Hat tip to Jayel Aheram)
UPDATE: Ira Stoll has alerted me that Harvey has been granted a reprieve, requiring her to have a wash basin, five gallons of water, a food thermometer and a bucket to drain hot water. The permission-based society is so kind!