In New Polls, Americans Give Pretty Much All Elected Officials in Government Thumbs Down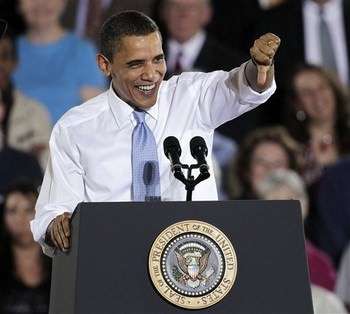 Several new polls this week report that Americans are in a remarkably sour mood leading up to the election this November.
Basically, Americans aren't pleased with the economy, with the president, with America's direction or place in the world, with Congress, or even with their own elected leaders. The gist of America's reaction to basically everything about the government and the economy right now is, "Ugh."  
Some highlights from the latest NBC/Wall Street Journal poll:
Majorities are not satisfied with how things are going on multiple measures. 64 percent are dissatisfied with the state of the economy, compared to just 35 percent who are satisfied. That's the worst result since 2008.  62 percent are not satisfied with America's role in the world. And 79 percent aren't satisfied with the country's political system
Overall, 71 percent say the country is headed "off on the wrong track." Another 60 percent say America is "in a state of decline."
Americans are especially unsatisfied with President Obama. His disapproval rating is now at 54 percent, as high as it has ever been, and his approval rating just hit 40, down a point from the previous month.
The public isn't too fond of Republicans either. Only 19 percent had positive feelings toward the congressional GOP, compared with 54 percent who were negative. Democrats in Congress were also upside down on approval, with 31 percent expressing positive feelings and 46 percent coming in negative. Congress as a whole gets a 79 percent disapproval rating.
Really, the public isn't fond of anyone in Congress these days, including their own representatives. A different poll by The Washington Post and ABC News found this week that more than half—51 percent—of Americans disapprove of their own congress critter. That's a record.
This obviously isn't great news for anyone in Congress, but my sense is that it's worst for Democrats, who are linked, whether they like it or not, to President Obama and the public's feelings about the direction of the nation as a whole. And the WSJ/NBC poll seems to suggest that things are tilting, slightly, in the GOP's direction, with 44 percent saying they'd prefer a generically Republican controlled Congress and 43 percent saying they would prefer Democrats in charge.
November is going to be pretty interesting.