Lerner Called Conservatives 'Crazies,' 'Assholes'; Obama to GOP: 'Stop Hating'; Gaza Gets Uglier: P.M. Links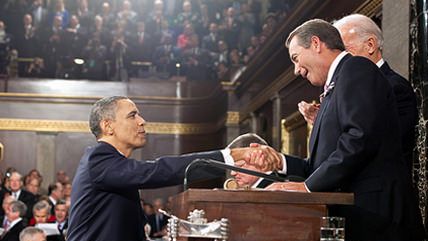 White House

"Crazies" and "assholes" is how ex-IRS official Lois Lerner described conservatives in newly released emails.

To the Republicans threatening to sue him, President Obama has this to say: "Stop being mad all the time. Stop just hating all the time."
The Israeli-Palestinian conflict gets uglier. Israel held four-hour humanitarian ceasefire, but also bombed a U.N. school full of kids, killing at least 16 people and wounding over 100.
Congressional Democrats up for reelection are pleading with the president to tone down his immigration rhetoric. Republicans are infighting, too: Texas Sen. Ted Cruz is coordinating with House GOPers to undermine Rep. John Boehner (OH) costly border bill. According to a new Associated Press poll, "53 percent of Americans believe the United States has no moral obligation to offer asylum to people who escape violence or political persecution, while 44 percent believe it has that responsibility."
The economy unexpectedly grew at a 4 percent annual rate in the second quarter, compared to the 3 percent economists predicted. And, the private sector added 218,000 jobs this month.
Hillary Clinton "regrets" claiming to have been "dead broke." Sort of. "It was inartful," she said, but "it was accurate."
Follow Reason and Reason 24/7 on Twitter, and like us on Facebook. You can also get the top stories mailed to you—sign up here.