Veterans Health Care Compromise Reached, Rockets Launched From Russia, 'The Sarah Palin Channel' Lives: A.M. Links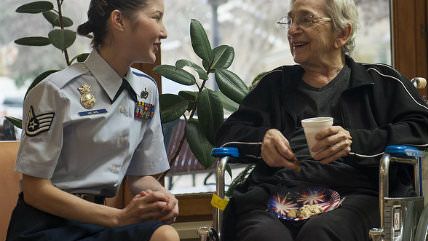 U.S. Air Force/Flickr

House and Senate lawmakers have agreed on a compromise plan to fix the problem-plagued veterans health care program, which they will unveil at a press conference Monday.

The Pentagon says satellite images show rockets were fired from Russia into eastern Ukraine between July 21-26. Meanwhile, the UN is considering whether the downing of Malaysia Airlines jet MH17—thought to be done by pro-Russian rebels—may constitute a war crime. Time to start cleaning out the old bomb shelter yet?
If real problems are too scary right now, you could always join hyper-partisans on both sides of American politics in feeding the "absurd impreachment feedback loop."
And speaking of impeachment… Sarah Palin has launched her own subscription-based online network, The Sarah Palin Channel. For $9.95 per month you can talk with Palin "about the issues that the mainstream media won't talk about." LOL.
Not to be outdone by neighboring states, Tennessee advocates are pushing a constitutional amendment that would create a spate of new abortion restrictions.
Married couples with equal education levels are less likely to get divorced than those in which women are less educated than their husbands.
Does President Obama have the authority to stop tax inversion?