Poll: 35 Percent Support Obama Impeachment, Rand Paul Blasts Racist Drug Laws, Congress Banned from Editing Wikipedia: P.M. Links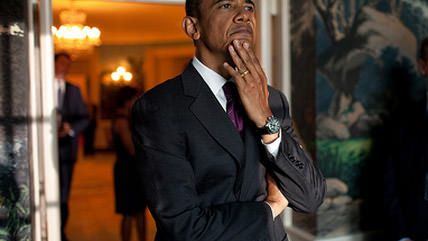 White House

In a CNN poll, 35 percent of respondents supported impeaching President Obama. A senior adviser to Obama said that the White House is taking Republican threats of impeachment seriously.

"Race still plays a role in the enforcement of the law," said Sen. Rand Paul (R-Ky.) in a speech in Cincinnati today, decrying bad drug laws and making an appeal to minority voters.
Wikipedia has banned computers at the House of Representatives from editing articles following "persistent disruptive" behavior that included prank changes like describing Donald Rumsfeld as an "alien lizard."
As the death toll in Gaza approaches 850 people, Israel rejected a ceasefire plan, saying that Secretary of State John "Kerry's proposal leans (too much) towards Hamas's demands."
The Pentagon announced that Russia today might be in the process of transfering heavy-caliber multiple-launch rocket systems to pro-Russian separatists in Ukraine. 
The trigger-happy Albuquerque Police Department has agreed to a deal with the Department of Justice by which an independent monitor will make sure the cops stop killing so many people.
The black box of the Air Algeria plane has been found.
Pope Francis is coming to the U.S. in 2015.