Obama Calls for Cease-Fire in Ukraine, Study: Cellphone Driving Ban Doesn't Stop Accidents, Atlantic Coast to Open for Oil Drilling: P.M. Links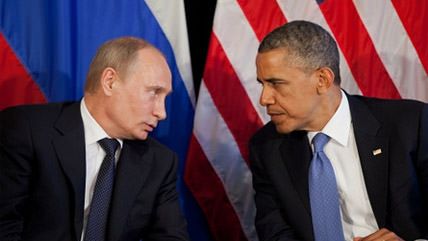 poniblog-CC-BY-NC-SA

President Obama, among other world leaders, has called for an immediate cease-fire in Ukraine following the deliberate downing of a Malaysia Airlines passenger plane. Also, the president confirmed that at least one American citizen was on the plane. U.S. military and intelligence reports indicate that rocket-armed separatists were responsible for the attack, and that they trained with the equipment in Russia recently. So, maybe when people call them "pro-Russian," that shouldn't refer to the fact that they're in favor of Russia, but that they're professionals.

For the first time in four decades, the Atlantic coast will be open for oil and gas exploration, courtesy a policy change announced by the Interior Department today.
Using a cellphone while driving has been banned in California for six years now, but it hasn't shown signs of decreasing accidents.
CNN international correspondent Diana Magnay was pulled out of Israel after calling a group of Israelis "scum" on Twitter. To be fair, CNN acknowledges that the group "threatened and harassed" Magnay first.
The Islamic State (formerly the Islamic State of Iraq and Syria, or ISIS) is engaging in executions, rape, and forced child recruitment, according to a United Nations report, noting that this "may amount to war crimes." Way to take a hard line.
Elizabeth Warren made quite a splash at the progressivist Netroots Nation convention in Detroit yesterday. Then someone made a nauseatingly saccharine music video about it.
Follow Reason and Reason 24/7 on Twitter, and like us on Facebook. You can also get the top stories mailed to you—sign up here.