The Best/Worst of Obamacare Propaganda
Selling the president's health care law, one shareable brainfart at a time.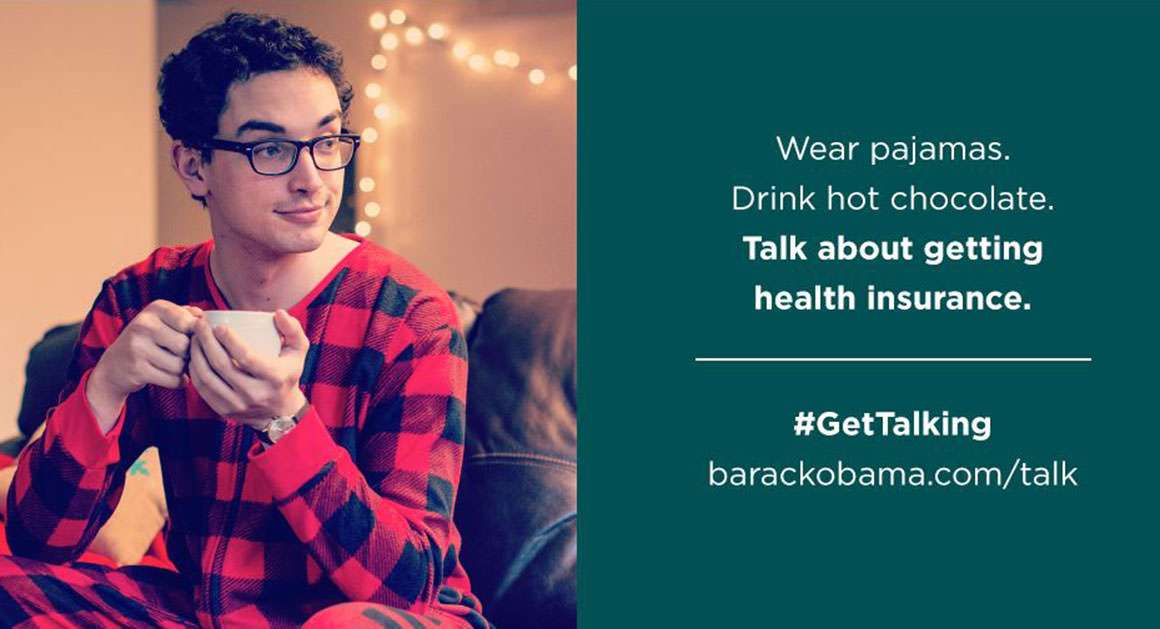 Pajama Boy
This onesie-clad king of Obamacare propaganda first appeared with his hot chocolate in a December 2013 tweet from Organizing for Action, but has cropped up elsewhere in more formal attire as part of a campaign nagging parents to nag their children about getting health insurance (only after they finally leave mom and dad's plan at the tender age of 26, thanks to an early provision of the president's health care plan). The bespectacled millennial has been hailed as the lovechild of MSNBC hosts Rachel Maddow and Chris Hayes. Rush Limbaugh asked if Pajama Boy was "the new Julia." All of which means that as propaganda, Pajama Boy was a resounding success. As Nick Gillespie wrote, the image:
is widely talked about and has effectively won the internet for at least a few days. And it creates a whole host of carriers for its essential message via parody, satire, screeds, and more. Some of the parodies and rewrites are genuinely funny and some are not (the ones that reek of conservative insecurity about sexual identity strike me as their own form of unfortunate expression). But they all ultimately do what the spot's creators wanted: They get people talking about health insurance.
Next up, Brosurance.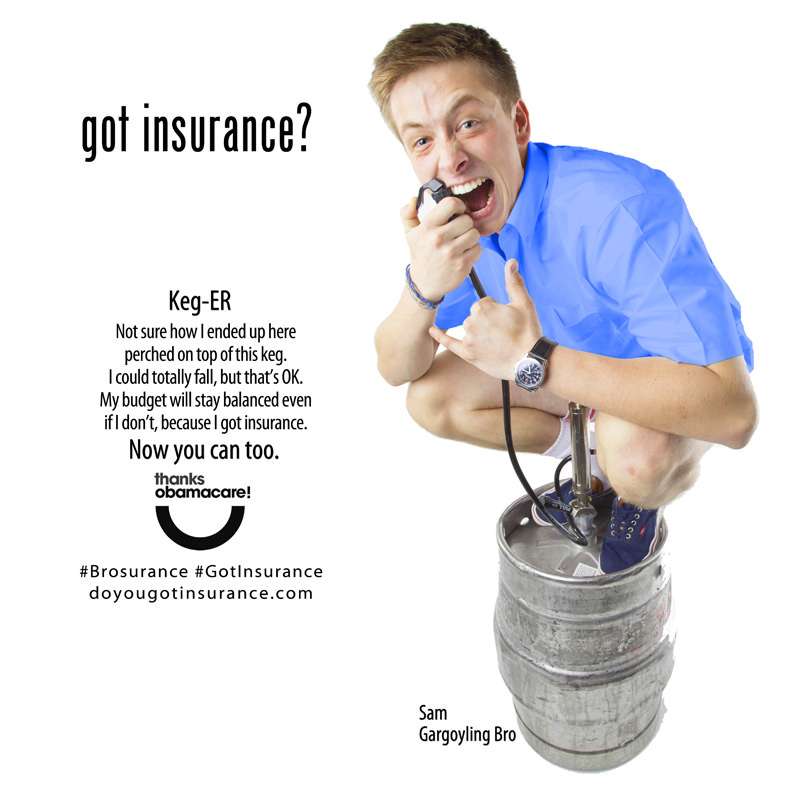 Brosurance
These ads, hosted at doyougotinsurance.com, are so ridiculous that they prompted Mother Jones to run an article informing readers that the campaign was, in fact, "real." A team effort by the Colorado Consumer Health Initiative (CCHI) and ProgressNow Colorado Education, the series focuses heavily on sports injuries, sex, drinking—and various combinations of the three. The primary takeaway from the ads is that you should sign up for your taxpayer subsidized health insurance now so that you can engage in borderline risky behaviors later.
This one is part of the #brosurance category, but don't worry: there's something for the ladies as well…
Next up, Hosurance.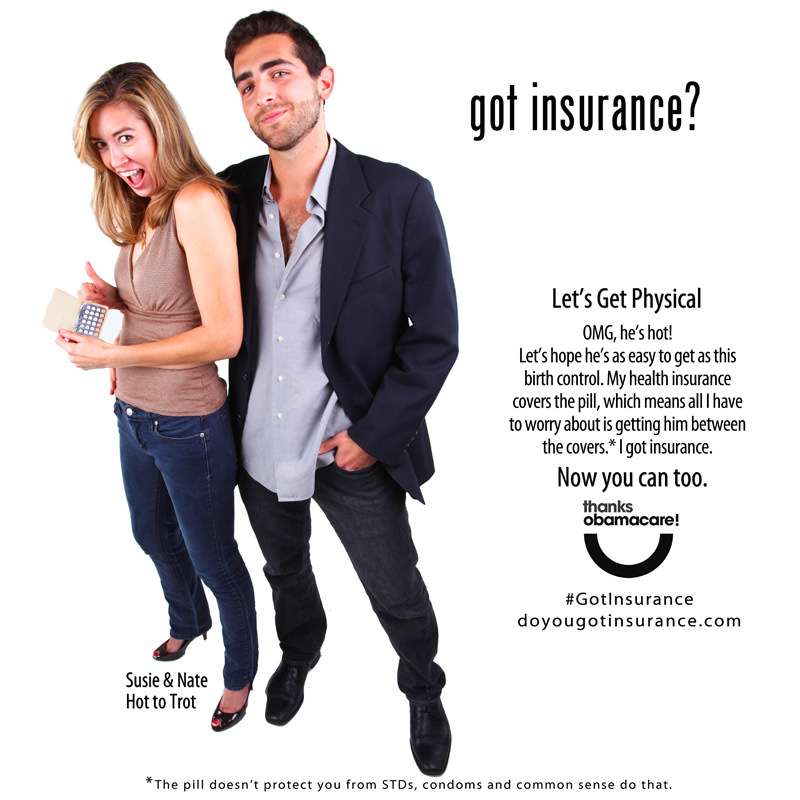 Hosurance
Like its male counterparts, this ad really captures the lingo the kids these days are using, what with OMG and the super-trendy hot to trot. While these don't have their own hashtag, the obvious choice is #hosurance. Other distaff-focused ads include roller derby gurls and some gals sipping wine while sitting on yoga balls, happily insured in preparation for the disasters everyone can see coming.
Next up, singing Oregonians.
Live Long Oregon
While describing the slow motion trainwreck of Oregon's health care exchange, Peter Suderman includes this tidbit:
[Despite clear signs of technical failure] State officials had pressed on anyway, spending $9 million on a twee advertising campaign featuring folk singer Laura Gibson—a contract that was expanded to $21 million in October, even as the glitches multiplied.
The ads were pulled when it became apparent the whole exchange was going to be a bust, but not before we all suffered through lyrics rhyming "stay-at-home dad" with "indie rock band."
Next up, 8 Tips to Drive Your Man Wild in Bed With Obamacare!
Cosmopolitan Advertorials
At least the previous entries on the list are direct about their intentions. Far more insidious are the series of stories that appeared in Cosmo touting Obamacare. As Mark Hemingway explains in his great magazine feature on Obamacare propaganda (which covers most of the other monstrosities in this slideshow as well):
It might seem odd that Joanna Coles, editor in chief of Cosmopolitan, was invited to the White House for lunch. After all, why would the most powerful person in the world bother meeting with the editor of a publication that specializes in hot summer sex tricks and the year's most dangerous diet? Particularly on May 2, 2014, when just about every important political journalist was in town for the White House Correspondents Dinner, the annual gala where pols and press rub shoulders and bond over bottomless booze.

But Coles had a big favor coming to her. In 2013, she publicly pledged her magazine's ad space and editorial content to help promote the Patient Protection and Affordable Care Act, better known as Obamacare. There are now more than 100 references to Obamacare on Cosmo's website, almost all of them glowing.
Next up, Doge.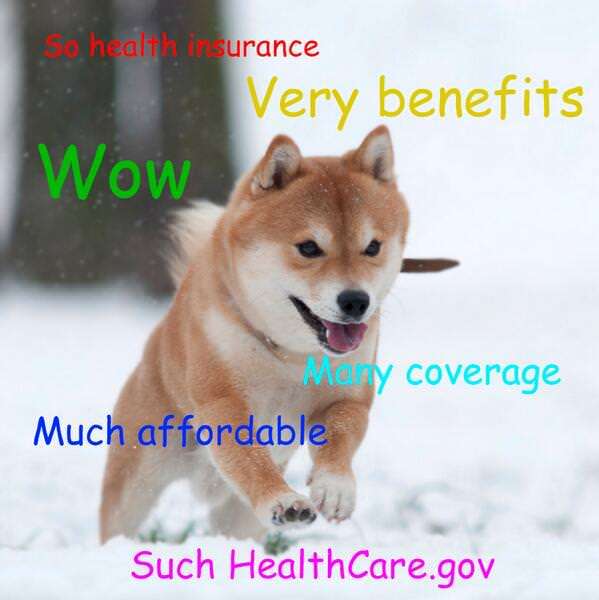 HHS Does Doge
Then there's HealthCare.gov's take on the doge Internet meme. To explain what the heck is going on in this U.S. Department of Health and Human Services–sponsored campaign, let's turn to the Christian Science Monitor. Because why not?:
This mimics Doge, a meme on Tumblr in which introspective-looking Shiba Inus are depicted with a dog-brain-level interior monologue, such as, "Wow. Who am I? Such unsure. So much mystery."…

That would work if it did not come across like George Will quoting Arcade Fire. On Twitter, the immediate early consensus about the Doge meme and HHS was simple: "make it stop."

HHS "used the recently revived, three-year-old meme to flog Obamacare on Wednesday, which hopefully means that by Thursday, we'll all sort of silently agree it's over," writes New York Magazine's Adam Martin.
Next up, whatever horrifying examples you put in the comments section that we missed.