Reason Wins Six Awards at the 56th SoCal Journalism Awards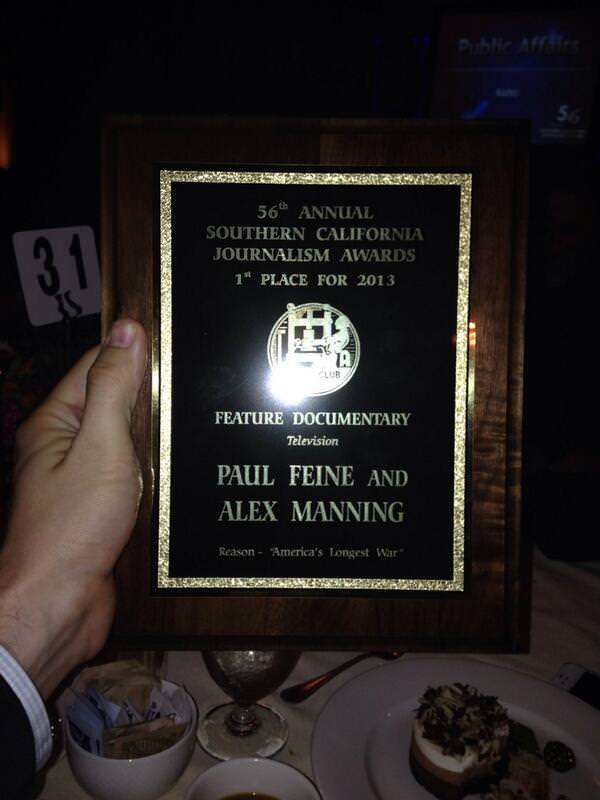 Details to come, but Reason journalists won some notice at the Los Angeles Press Club's 56th SoCal Journalism Awards, announced just tonight! Courtesy of Scott Shackford and Paul Detrick, who were in attendance and tweeted the honors as they happened, a photo of one of the six awards is posted at right.
Winning notice were: "America's Longest War," by Paul Feine and Alex Manning, for Feature Documentary; "Anarchy in Detroit," by Zach Weissmuller, for Advocacy Journalism, "The Inglory of Jackie Robinson's Times," by Matt Welch, for Online Sports News/Feature/Commentary; "LA County Sheriffs Hassle Photographer, Trample Constitution, Get Lauded by Bosses," by Paul Detrick, for Investigative Television; "Riverside Cop Tricks Autistic Teen into Buying Pot," by Amanda Winkler, for Television Feature, and "Why I'm Teaching My Son To Break the Law," by yours truly.
Kudos to all Reason staffers for the hard work that wins this kind of notice.