Ukraine Says Russian Tanks Have Crossed the Border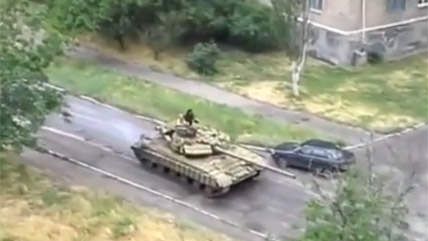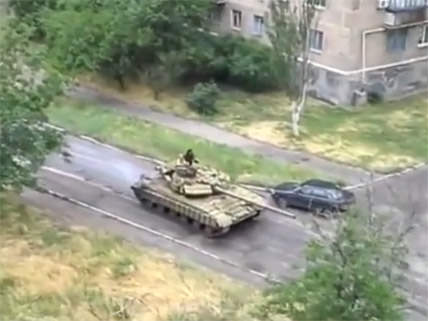 The Ukrainian government says that the Russian military has crossed the nation's border with three tanks.
From Reuters:
"We have observed columns passing with armoured personnel carriers, other armoured vehicles and artillery pieces, and tanks which, according to our information, came across the border and this morning were in Snizhnye," Ukrainian Interior Minister Arseny Avakov told reporters in Kiev.

He said Ukrainian forces had destroyed part of the column and fighting was still under way, but gave no further details. …

He said the columns had come across the border at checkpoints seized by the rebels "despite the Russian Federation's statements that it welcomes the peace process and that the order has been given to strengthen border controls".
In a phone call between Secretary of State John Kerry and Russian Foreign Minister Sergei Lavrov yesterday, the latter "underscored the need for the swiftest halt by Kiev of its military operation … agreement on terms of a ceasefire, a solution to acute humanitarian issues and … real national dialogue on Ukraine's future structure," according to another Reuters report.
As The Washington Post highlights, Lavrov yesterday also "acknowledged for the first time an official relationship with pro-Russian separatists in eastern Ukraine" by which the latter group is receiving humanitarian aid. The Post also notes that one of the separatist leaders met with Vladimir Zhirinovsky, one of Russia's most notorious, authoritarian political leaders who has throughout the years called for a takeover of Ukraine.
Ukraine's new president, Petro Poroshenko, has not yet commented on the Russian tanks, but earlier stated that the "terrorists must lay down their weapons" for peace talks to proceed. "We do not need negotiations for the sake of negotiations. Our peace plan must become the basis for further de-escalation of the conflict."
Below is a video purported to be of one of the tanks. Another video is here.