Obama Looking at 'All the Options' on Iraq, Bergdahl Returns, Who Will Replace Cantor?: P.M. Links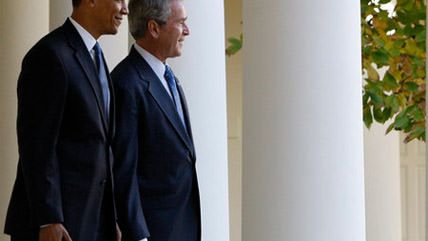 White House

Iraq is in chaos. President Obama announced this afternoon that he's "looking at all the options" available to remedy the situation.

Sgt. Bowe Bergdahl, who has been at a military hospital in Germany, is returning to the U.S. today.
Who will replace Eric Cantor (R-Va.) as House Majority Leader? It's looking like it'll either be House Majority Whip Kevin McCarthy (R-Calif.) or House Rules Committee Chairman Pete Sessions (R-Texas).
The White House won't fire anybody over the big oopsy that revealed who the CIA's top agent in Afghanistan is.
The Pew Research Center conducted its largest ever political survey and determined that Americans are more polarized than ever.
Former President George H.W. Bush jumped out of a helicopter today to celebrate his 90th birthday. He's been doing a celebratory skydive every five years since he turned 75.
The World Cup just started! Hopefully the cops are done teargasing protesters, but probably not.
Follow Reason and Reason 24/7 on Twitter, and like us on Facebook. You can also get the top stories mailed to you—sign up here.