Local Police Chief Super Sad He Was Forced to Buy Badass Armored Vehicle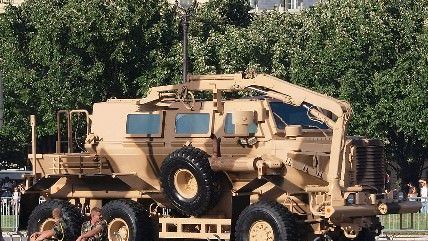 (By AlfvanBeem (Own work) [CC0], via Wikimedia Commons)
Dispatch from the SWATification of America: As the war(s) wind down, local police forces are gearing up. Some great coverage in The New York Times about the flow of armored vehicles, aircraft, and night vision goggles into American communities.
The Times quotes a "more in sorrow than in anger" line from a local police chief:
"I don't like it. I wish it were the way it was when I was a kid," he said. But he said the possibility of violence, however remote, required taking precautions. "We're not going to go out there as Officer Friendly with no body armor and just a handgun and say 'Good enough.' "
And then calls him out on his historical illiteracy:
Congress created the military-transfer program in the early 1990s, when violent crime plagued America's cities and the police felt outgunned by drug gangs. Today, crime has fallen to its lowest levels in a generation, the wars have wound down, and despite current fears, the number of domestic terrorist attacks has declined sharply from the 1960s and 1970s.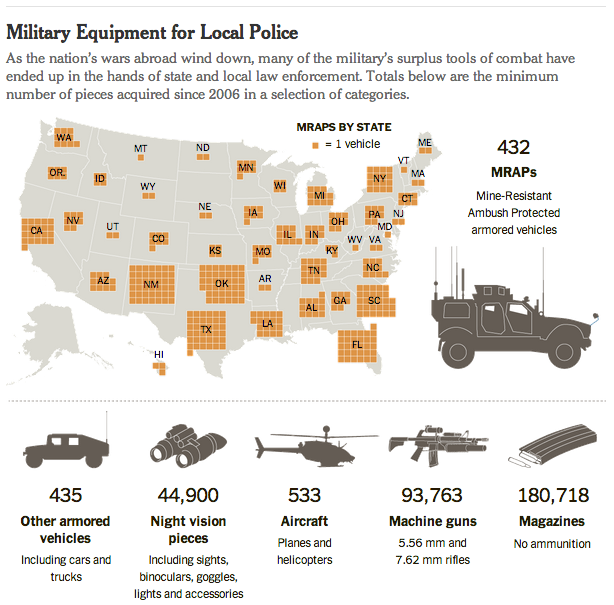 Perhaps the juiciest bit:
In the Indianapolis suburbs, officers said they needed a mine-resistant vehicle to protect against a possible attack by veterans returning from war.

"You have a lot of people who are coming out of the military that have the ability and knowledge to build I.E.D.'s and to defeat law enforcement techniques," Sgt. Dan Downing of the Morgan County Sheriff's Department told the local Fox affiliate, referring to improvised explosive devices, or homemade bombs. Sergeant Downing did not return a message seeking comment.