Feds Want to Further Redact Drone Memo, CIA Goes Social, Oklahoma Repeals Common Core: P.M. Links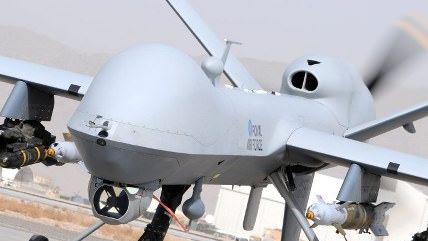 Defence Images

The Justice Department is, predictably enough, asking the courts to redact more information from the drone memo that details the government's justification for assassinating American citizens overseas without a trial.

The CIA has started an official Twitter account and Facebook page to provide more avenues to spit out talking points that aren't to be trusted.
The Charles Koch Foundation and Koch Industries Inc. are donating $25 million to fund scholarships to the United Negro College Fund.
Common Core education standards have been repealed in Oklahoma. The state will return to standards set in 2010 and develop new standards by 2016.
Presidents Barack Obama and Vladimir Putin had a brief chat in France at a luncheon for the 70th anniversary of D-Day.
John Meis, the student who disarmed the gunman who attacked Seattle Pacific University, killing one and injuring two others, is being hailed as a hero. Meis subdued the shooter with pepper spray as he was attempting to reload.
Follow Reason and Reason 24/7 on Twitter, and like us on Facebook. You can also get the top stories mailed to you—sign up here. Have a news tip? Send it to us!