Canada's Disappointing New Prostitution Plan Would Make Selling Sex There Illegal for the First Time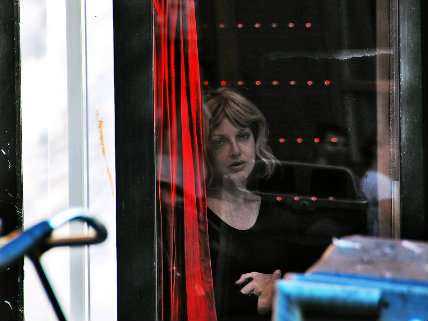 Canada is indeed inching toward the "Nordic model" of sex work prohibition, which nonsensically makes paying for sex a crime, but not selling it. An anti-prostitution bill introduced yesterday by Canadian Justice Minister and Attorney General Peter MacKay draws from this model—popular in the likes of Norway and Sweden—with additional "made-in-Canada" elements, as MacKay described them. It would officially make selling sex for money illegal in Canada for the first time.
The bill, called the "Protection of Communities and Exploited Persons Act," is predicated on the paternalistic idea that "the majority of those who sell sexual services" don't do so by choice. "We view the vast majority of those involved in selling sexual services as victims," MacKay said in a statement.
Victims who could still face up to five years in prison for trying to earn a living, but hey, any time spent in jail is at least not time engaging in sex acts and business transactions that politicians disapprove of, right? MacKay says his bill would "introduce tough action to crack down on pimps and johns," but it would still criminalize "communicating for the purpose of selling sexual services in public places where a child could reasonably be expected to be present," a measure that—much like our "manifesting prostitution" laws in parts of America—could get women picked up for suspiciously waving to passing cars. The punishment for this criminal communication could be up to five years in prison.
In addition, the bill make it illegal to advertise sexual services online or in print. Though there would be no criminal liability for "those who sell their own sexual services" via advertisements, the bill offers no such qualified immunity for third parties, like the websites or newspapers that run the ads. MacKay also tacked on $20 million in funding for programs to help sex workers get out of the business, increased penalties for child sex trafficking, and—the centerpiece of the proposal—new penalties for "purchasers of sexual services," pimps, and anyone else who "procures others for the purpose of prostitution."
About two thirds of Canadians do not believe selling sex should be illegal, according to a recent online poll conducted by the Justice Department. But a majority do think that purchasing sex should be prohibited.
I wrote yesterday about a new study shunning this Nordic approach. While not fining and throwing sex workers in jail quite as much is a positive development, it's a modest one. Criminalizing clients still drives sex work underground, making it less safe for everyone involved. And because police are still out targeting johns and pimps and "traffickers", it doesn't cut down on the overall number of arrests (sex workers who don't or won't conform to the victim narrative are often arrested anyway, along with their accomplices).
But MacKay, apparently taking his cues from a Victorian-era newspaper, said his new proposal would "protect and safeguard (Canadian) communities—in particular women, children, and those who are at risk of being drawn into prostitution—from the dangers associated with prostitution, including violence, drug-related crime, and organized crime."
Until recently, prostitution per se wasn't a crime in Canada, though keeping a brothel, "communicating in public about acts of prostitution," or "living off the proceeds" of prostitution (aka pimping) were. In December 2013, the Canadian Supreme Court struck down these statutes (in Canada v. Bedford), giving the country's parliament 12 months to rewrite prostitution legislation.