A.M. Links: Obama Defends Prisoner Swap, New NSA Chief Doubts Snowden a Spy, NASA Releases Picture of Universe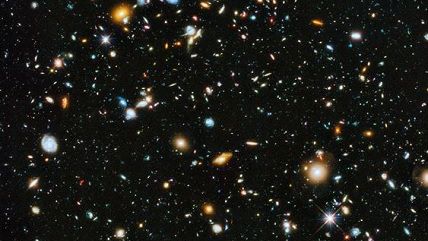 NASA

While in Poland, President Obama defended his decision to trade prisoners with the Taliban in order to secure the release of a soldier captured in Afghanistan, saying that it's what happens when wars wind down. Sgt. Bowe Bergdahl, however, was never listed as a prisoner of war. Obama will also meet with Ukraine's president elect, Petro Poroshenko, while in Poland.

Adm. Michael Rogers, the new head of the National Security Agency, says whistleblower Edward Snowden is probably not a Russian spy.
According to contract documents, the Secret Service is purchasing software that can detect sarcasm on the Internet. Great idea guys!
The results of the Mississippi Republican Senate primary, between the six-term senator Thad Cochrane and Chris McDaniel, a Tea Party challenger, remain too close to call.
Former Egyptian army chief Abdel-Fattah al-Sisi won the presidential election with 96 percent of the vote, according to the country's electoral authority.
NASA released a new panorama composite photo of the universe taken by the Hubble Space Telescope that includes ultraviolet light for the first time.
The pharmacologist who helped popularize MDMA, Alexander Shulgin, is dead at 88.
Follow Reason and Reason 24/7 on Twitter, and like us on Facebook. You can also get the top stories mailed to you—sign up here.