Australian Politician Joins Those Seeking to Ban Unbannable 3D-Printed Guns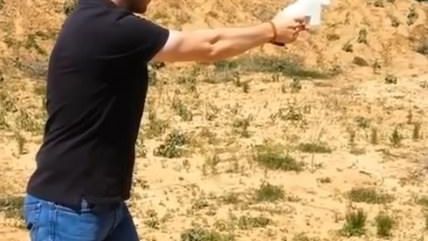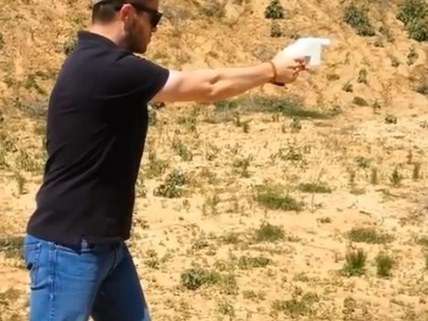 "It's fun to kind of challenge the state to greater and greater levels of its own hyper-statism," Cody Wilson, inventor of the 3Drinted Liberator pistol, recently told Reason TV (that's him firing it in the photo). And hyper-statists have been happy to oblige. The latest politician to seek to ban a firearm deliberately designed to be producable in privacy, with minimal skills, and beyond the reach of government officials, is Carl Judge, a member of the state parliament in Queensland, Australia.
Writes Elise Worthington at 7News:
The Palmer United Party (PUP) has introduced legislation to Queensland Parliament proposing to regulate the creation and possession of 3D printed firearms.

If passed, the laws would be an Australian first, making it a punishable offence to make, buy or possess 3D firearms.

PUP MP Carl Judge told State Parliament last night he was concerned the new printing method could be used by criminals.

Mr Judge said the private member's bill included a licensing scheme, as well as new offences and punishments for offenders.
Judge and his party join politicians in Philadelphia, New York City, and elsewhere in attempting to illegalize that which is intended to render laws toothless.
And many government officials have come to the conclusion that Wilson and his supporters succeeded.
"It is very difficult to do anything about it," Troels Oerting Joergensen, head of the European Cybercrime Centre at Europol, told the New York Times. "Of course you can say that it is illegal, but as with everything else on the Internet, you can always get it from somewhere."
"Proposed legislation to ban 3D printing of weapons may deter, but cannot completely prevent their production," a United States Department of Homeland Security bulletin noted. "Even if the practice is prohibited by new legislation, online distribution of these digital files will be as difficult to control as any other illegally traded music, movie or software files."
Politicians like Carl Judge may ultimately arrest a few incautious or unlucky souls (Yoshitomo Imura was arrested in Japan after uploading videos of himself firing his 3D-printed gun to YouTube). But they can't actually prevent people from empowering themselves with the technology.