Biden Grows Ties to Ukraine Gas Company, US Won't Support Ransom in Nigeria, No Keystone Pipeline This Year: P.M. Links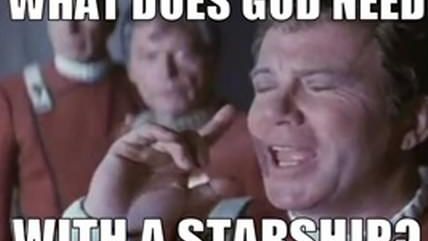 "Star Trek V"

Joe Biden's son is joining the board of a gas company in Ukraine, which doesn't complicate anything at all, I'm sure.

The United States will not support a ransom or prisoner exchange for the Nigerian schoolgirls kidnapped by Boko Haram, the White House says.
A man claiming to be God reportedly crashed his truck into a television news station in Towson, Maryland. Why does God need a truck? Or a news station?
Six Ukrainian soldiers were reportedly killed in an ambush by antigovernment forces. A rebel commander claims one dead among the militia men and a much higher death count among Ukrainians than reported.
Congress has failed to negotiate passage of legislation authorizing construction of the Keystone XL pipeline. With the Obama Administration also failing to take a formal position on it as yet, don't expect anything to happen for the rest of the year.
Israel's former Prime Minister Ehud Olmert has been sentenced to six years in prison for his role in a bribery scandal.
Follow us on Facebook and Twitter, and don't forget to sign up for Reason's daily updates for more content.