Alec Baldwin Booked by NYPD After Biking in Wrong Direction, Calls City a 'Mismanaged Carnival of Stupidity'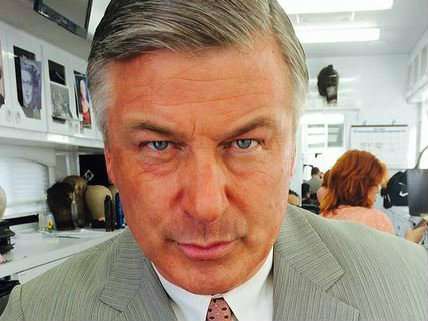 Alec Baldwin had a run-in with the New York City Police Department (NYPD) today that resulted in some fine frustrated tweeting from the notoriously blunt actor. Baldwin was initially stopped for "riding his bicycle the wrong way" down Fifth Avenue and eventually arrested for disorderly conduct, according to the Wall Street Journal.
"Officer Moreno, badge number 23388, arrested me and handcuffed me for going the wrong way on Fifth Ave," Baldwin tweeted around 12:30 p.m. Tuesday.
"New York City is a mismanaged carnival of stupidity that is desperate for revenue and anxious to criminalize behavior once thought benign."
I wouldn't say that's an unfair characterization. Until yesterday the city criminalized carrying multiple condoms. Meanwhile, NYPD cops can't seem to stop getting smashed and firing off their guns. And this morning, cops took a man to the police station in handfcuffs for a biking infraction and not having ID on him at all times.
Here's more on Baldwin's morning from the Journal:
Officers approached Mr. Baldwin told him he "was riding his bicycle the wrong way," an NYPD spokeswoman said.

Mr. Baldwin was not able to produce identification and "then he got belligerent and started to argue with the officers," the spokeswoman said.

He was placed in handcuffs. Mr. Baldwin was taken to a local police precinct and was later released, the official said.
His court date is July 24. Good thing NYPD is here to protect from the scourge of celebrities riding bicycles in the wrong direction.