Hedwig and the Angry Inch is Neil Patrick Harris' One-Man Show
The onstage band kicks, and the songs are fierce.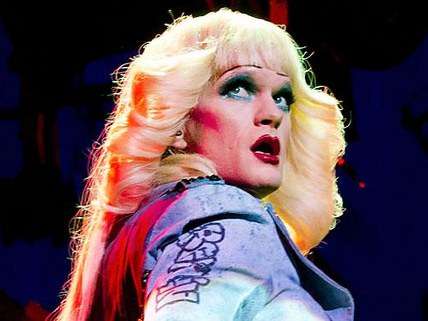 Neil Patrick Harris hurls himself into the title role in the new Broadway revival of Hedwig and the Angry Inch, which opened last night at the Belasco Theatre on West 44th Street. As the "internationally ignored song stylist" Hedwig—also an intersexual train wreck—he flounces across the stage in wild spangly drag-wear, high-kicking his gold platform boots, wisecracking through a face full of glittery makeup, and, it must be said, wearing a big feathery Farrah Fawcett-style wig very well. He also ventures out into the audience to mount the arms of one patron's seat and pump his pelvis into the man's face. Fans of How I Met Your Mother or, going way back, Doogie Howser, M.D. will surely be startled. But then that, presumably, is why they'll be paying as much as $200 per ticket to be on hand. Harris may not be the whole show, but he's most of it.
Hedwig and the Angry Inch was a small but electrifying sensation when it opened Off-Broadway in 1998, in a tiny theatre hard by the Hudson River. The show was a cry of love for the glam-rock musical icons of the 1970s—David Bowie, Mott the Hoople, peroxide-period Lou Reed, all those guys. The dozen-or-so songs, by Stephen Trask, were real rock & roll, as opposed to the wretched Broadway version of same (think Hair). Taken together, they sounded like the best Ziggy Stardust album Bowie never made.
But where Bowie and most of his fellow glammers maintained at least a fig leaf of ambiguity about their sexual orientation, Hedwig was riotously gay, its protagonist the unconquerable victim of a botched sex-change operation that left him with a genital nubbin he dubbed "the angry inch." The songs were workshopped at a punky downtown drag club called Squeezebox, where Trask led the house band. Eventually a story emerged, scripted by actor and Squeezebox regular John Cameron Mitchell, who drew from his own youth as an army brat in West Germany to fill out Hedwig's world. Mitchell starred in that original stage show, and reprised the role in the 2001 movie version, which he also directed. (The movie withered at the box office, but has had a robust afterlife on video and cable.)
Mitchell did some script revisions for the new show; apart from that, though, Hedwig's heart remains pretty much in the same place. The onstage band—two guitars, bass, drums and keyboards—still kicks, and the songs remain fierce, especially "Tear Me Down" (a terrific opener), "Exquisite Corpse" and the overwhelming "Angry Inch." And after floating down onto the stage in a sort of debauched Pierrot outfit, Harris gets right to work, rousing the audience ("I do love a warm hand on my entrance"), cuing rimshots with a kick of his heel, and reenacting the faux-fellatio move made famous in the early '70s by Bowie and his guitarist, Mick Ronson.
As we're by now aware, Harris can really sing, too, and he knows how to deliver a good lewd line. Unfortunately, he's not John Cameron Mitchell—which I guess won't matter to theatergoers with no idea who John Cameron Mitchell is. Mitchell, a onetime habitué of the gay club scene, is a master of queeny repartee; Harris gives it his all, but he doesn't seem to have a natural, low-rent drag-queen sensibility to get in touch with. And as strong as his singing is, he doesn't appear to have the fervid emotional connection with this style of music that Mitchell does. Harris is a total pro, which is something different.
There are some wonderful moments in this Hedwig, especially the one in which Harris delicately interacts with swirling animated figures projected onto a mesh scrim. But the structure of the show is problematic, especially in a thousand-seat Broadway theatre. As always, the great songs—which we miss the moment they end—are interspersed with long monologues recounting Hedwig's sad history: How as the son of an East German prostitute he was courted by a black GI named Luther, who married him (after the botched operation), took him back to the States, and promptly dumped him. How Hedwig yearns to find a perfect mate—his "other half." How he began writing songs with a kid named Tommy, and how Tommy stole those tunes and used them to become a huge rock star called Tommy Gnosis. Now Hedwig follows Tommy around the country as he plays big arena concerts, while Hedwig and his band—which includes an ex-drag-queen backup singer named Yitzhak (Lena Hall)—make do with dreary gigs at places like the Sizzler ("near the salad bar").
These narrative interludes suck some of the energy out of the proceedings (although I don't recall them being a problem in the more intimate original production). And it doesn't help that the conclusion of the story has been "adjusted" in a way that's bafflingly unclear. This is a serious flaw, but it's somewhat obscured by ending the show with a spectacular rendition of the power ballad "Midnight Radio," which Hall drives home with formidable rock-diva oomph. It's a really big finish, and it has the effect of erasing all quibbles and sending everyone home happy—air-guitaring the songs and savoring Harris' nervy performance even as the slow stuff begins to dim in memory.