In Your Eyes: A DIY showcase
Joss Whedon's newest flick isn't just a great new movie. Its distribution model may be the future of great new movies.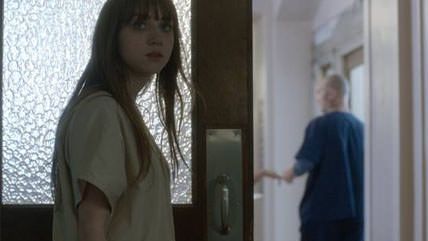 Twenty years ago, in snowy New England, a little girl named Rebecca lost control of her sled on an icy slope and slammed head-first into a tree. At the same time, in a classroom on the other side of the country, a boy named Dylan was suddenly knocked out of his seat.
This clever plot mechanism is beautifully elaborated in the new film In Your Eyes, which is suddenly upon us with no prior warning. The movie, directed by Brin Hill, screened for the first time on Sunday night at the Tribeca Film Festival. It was quickly followed by a video appearance by its writer, Joss Whedon, who's currently far away shooting the second Avengers movie. Whedon announced that the Tribeca screening of In Your Eyes (produced by his micro-budget Bellwether Pictures) in fact marked its worldwide release: that it was now available for online rental—for five dollars, in five different languages—at its own Website, InYourEyesMovie.com. This DIY experiment offers another new distribution model for independent filmmakers, and In Your Eyes, a radiant romantic fantasy baited with the Whedon pedigree, is an ideal picture to test that possibility.
Rebecca and Dylan grow up to be Zoe Kazan and Michael Stahl-David. Rebecca is confined in a gilded-cage marriage with a wealthy New Hampshire doctor (Mark Feuerstein), who treats her like a child. Dylan, still in New Mexico, is on parole after a two-year prison stretch on a burglary conviction. Both of these people feel like misfits, and see no way out of the restless dissatisfaction that clouds their lives. When their mysterious childhood connection is suddenly reestablished, they wonder if a ray of hope could be breaking through—but hope for what?
Director Hill, whose only previous feature was the urban sports drama Ball Don't Lie, has made a lustrous film out of Whedon's ingenious story. Rebecca and Dylan first discover that they're able to see their separate worlds through each other's eyes, and to converse as well. Dylan feels a sympathetic boredom with Rebecca's sterile upper-class existence—trapped in stuffy social events, often left alone in her big modern house. She sees that Dylan is a good-hearted guy whose wrong turn in life has hobbled him with a deep sense of unworthiness. He has no love life, so she engineers a date with a local bar girl (Nikki Reed) who's attracted to him. This goes very badly. Later, when they long to lay hands on one another, Hill braids their mutual desire into a richly suggestive love scene.
Their growing conversational connection begins to alarm the people around them, who can hear only one end of their chattering interaction. Rebecca's husband becomes concerned about her mental state—and he's in a position to do something about it. Meanwhile, Dylan is being pressured by old acquaintances to resume his criminal career. Can he and Rebecca somehow save each other?
Kazan and Stahl-David share the screen for only a single brief scene, but in back-and-forth one-shots throughout the film they establish a glowing rapport. As she has demonstrated most recently in films like Ruby Sparks and The Pretty One, Kazan is an endlessly surprising actor, gifted beyond the call of simple winsomeness. And Stahl-David, an appealing performer who has worked mostly in low-profile films and TV until now, could be one good role away from stardom.
If the movie has a significant flaw, it may be its ending, which aims for exhilarating release but in retrospect raises troubling questions. Critical reservations don't get much more minor than that, though.