Does Gabriel Garcia Marquez's Fawning Affection For Castro Diminish His Literary Achievement?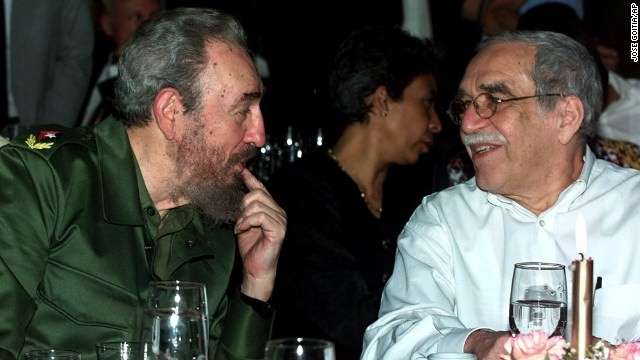 Nobel laureate Gabriel Garcia Marquez is dead at age 87. He was one of the giants of world literature and, given the relative decline of the novel over the past 50 or so years, he may well be one of the last great culture heroes of a particular sort.
In 2006, he wrote a "Happy 80th Birthday" piece for The Guardian celebrating his friend, Fidel Castro, in ways that were at odds with his professed feeling for the little people crushed underfoot by power. Here he is on Fidel:
His devotion is to the word. His power is of seduction. He goes to seek out problems where they are. The impetus of inspiration is very much part of his style. Books reflect the breadth of his tastes very well….

The essence of his own thinking could lie in the certainty that in undertaking mass work it is fundamental to be concerned about individuals.

That could explain his absolute confidence in direct contact. He has a language for each occasion and a distinct means of persuasion according to his interlocutors….

Fidel Castro is there to win. His attitude in the face of defeat, even in the most minimal actions of everyday life, would seem to obey a private logic: he does not even admit it, and does not have a minute's peace until he succeeds in inverting the terms and converting it into victory….

When he talks with people in the street, his conversation regains the expressiveness and crude frankness of genuine affection. They call him: Fidel. They address him informally, they argue with him, they claim him.
This sort of fawning over murderous leaders by public intellectuals and artists is always sad and off-putting (for arguably the ultimate example, read W.E.B Dubois on Stalin: "…he knew the common man, felt his problems, followed his fate").
The University of Hawaii's R.J. Rummel and the authors of The Black Book of Communism ballpark the number of political executions in Cuba between 1958 and 1987 at around 15,000, so perhaps Fidel's power wasn't so much "of seduction" but of fear. Some 10 percent of the population after the revolution left the country for the U.S. (which itself has much to answer for regarding Cuba). Many more would have left if they had been allowed. Outfits such as Amnesty International and Human Rights Watch have long ranked Cuba as "not free" and ultra-repressive under the decades-long rule of the Castro brothers.
In a 1999 New Yorker profile, John Lee Anderson quotes an anonymous friend of Garcia Marquez thus:
As long as I've known him, he's always had this desire to be around power. Gabo loves Presidents. My wife likes to tease him by saying that even a vice-minister gives him a hard-on.
Over the past few months (or more precisely, every few months), there seems another reason to raise the question of whether an artist's personal life impinges on the ability of the audience to appreciate or even consume his or her work. (Question: Does this story make you more or less excited to see the latest X-Men movie?)
Garcia Marquez's masterpiece, One Hundred Years of Solitude, is one of those books that is an absolutely incredible reading experience. How many of us read that novel and felt worlds open up for us in ways we never anticipated? And how many of us feel cheated, awful, despondent when an author capable of such mind-blowing brilliance fluffs a murderous dictator—"Fidel Castro is there to win"—in terms dumber and more moronic than a Successories poster?
In 2009, Reason TV interviewed Gorki Aguila, the lead singer of Porno Para Ricardo, a Cuban rock band that regularly gets thrown in jail on charges of "social dangerousness." Watch now: