Anniversary of Boston Bombing Memorialized, Ukraine Takes Airport, Brussels Bans Uber: P.M. Links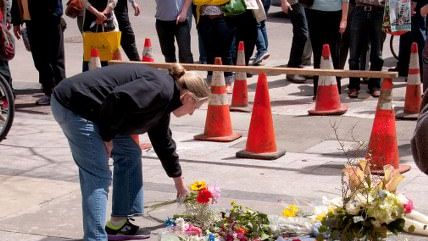 (streamingmeemee (Tim Carter) / photo on flickr)
Credit: streamingmeemee (Tim Carter) / photo on flickr

Thousands gathered in Boston to memorialize the first anniversary of the Boston Marathon bombing. Vice President Joe Biden spoke, saying that Bostonians have "become the face of America's resolve for the whole world to see."

Ukraine claims government forces have secured an airport in the eastern part of the country from control by a pro-Russian militia group.
The white supremacist suspected of killing three outside Jewish community centers in Kansas has been charged with murder. He could face the death penalty if convicted.
Michigan cities Detroit and Flint broke snow records for the winter. After measuring the snow today (yes, they're still getting snow), the National Weather Service says Detroit's seasonal total was more than 94 inches. Too bad they can't sell that stuff.
India's Supreme Court has recognized transgender people as a "third gender," saying "it is the right of every human being to choose their gender."
The city of Brussels,

Austria

Belgium, is the latest to ban Uber ride-sharing services.
Follow Reason and Reason 24/7 on Twitter, and like us on Facebook. You can also get the top stories mailed to you—sign up here. Have a news tip? Send it to us!