Pro-Russian Gunmen Attack Eastern Ukraine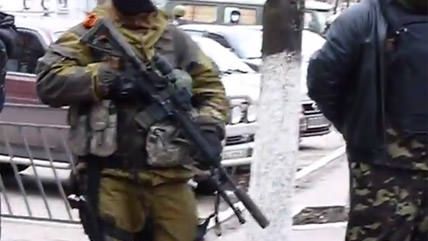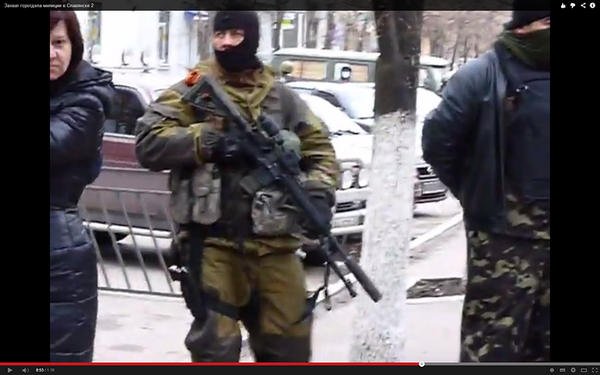 Eastern Ukraine is reportedly under attack by pro-Russian separatists.
The latest from Radio Free Europe/Radio Liberty:
Separatist protesters in the eastern Ukrainian city of Slovyansk have taken over the city hall and the local Ukrainian secret service (SBU) headquarters after earlier taking control of a police station.
Disturbances have also been reported in other eastern Ukrainian towns of Krasny Lyman and Kramatorsk.
The regional police chief in Ukraine's eastern industrial Donetsk Oblast has resigned amid pro-Russian protests in the regional capital, Donetsk.
Noting similarities between the current attack and the one in Crimea last month, the Kyiv Post writes that the situation "looks like a special Russian military operation" conducted by "masked men in army fatigues and bulletproof vests, armed with Kalashnikov assault rifles." The Post adds that local officials may have facilitated the offensive:
The swiftness and scope of today's attacks, as well as the support of the armed takeovers by the mayor of Sloviansk, suggest that the operation was planned well in advance and had support from within the ranks of Ukraine's government, including its law enforcement agencies, in Donetsk Oblast.
The Telegraph's Moscow correspondent Roland Oliphant is live-tweeting about passing through check points guarded by armed men. He snapped a photo of one masked gunmen, who showed off medals he claimed to receive fighting for Russia in Afghanistan.
Time reports that some participants are wearing the uniforms of Berkut, a notorious riot police force that the pro-western government disbanded for its role in brutalizing and killing civilians under orders from the previous president earlier this year.
Earlier this week separatists stormed government buildings, demanding secession referendums. They quickly abandoned most of them, but in one case the separatists allegedly took 60 hostages and wired the building with explosives.
Read more Reason coverage of Ukraine here.