The U.S. Army's Racially Biased Hairstyle Guidelines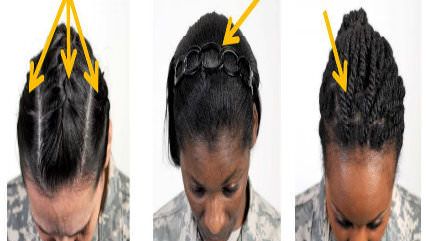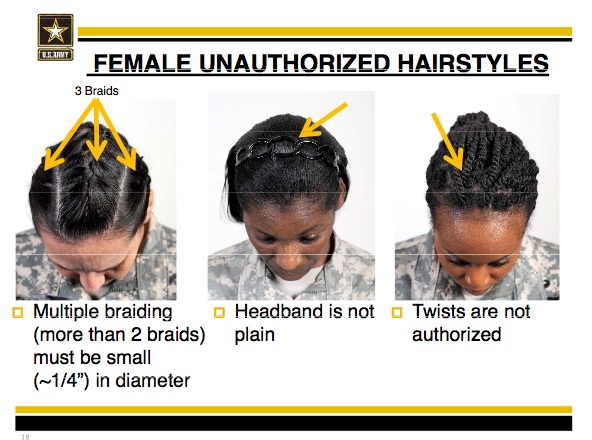 In a move that's being labeled racially biased and nonsensical, the U.S. Army has nixed cornrows, twists, and multiple braids wider than a quarter-inch for female members. These now-prohibited hairstyles aren't just disproportionately favored by African Americans, they're some of the best options black women have for keeping hair both natural and unobtrusive while in the field.
"Natural," in this context, means hair that's not been chemically relaxed, straightened, or permed. Natural hairstyles are much easier to maintain than more processed dos, obviously an important consideration for women in the military.
An Army spokesman told the Washington Post the regulations are "necessary to maintain uniformity within a military population." But that uniformity seems to come at the expense of military women of color.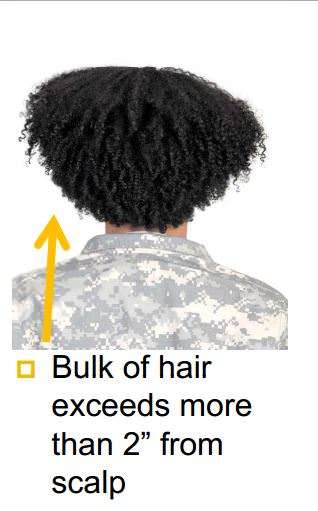 "Most black women, their hair doesn't grow straight down, it grows out," said Sgt. Jasmine Jacobs, of the Georgia National Guard, who wears her hair in two twists (hair that "exceeds more than 2″ from scalp" is also banned). "I'm disappointed to see the Army, rather than inform themselves on how black people wear their hair, they've white-washed it all."
Jacobs launched a petition asking the Army to reconsider, which so far has gathered more than 11,500 signatures. "More than 30% of females serving in the military are of a race other than white," the petition notes. Yet the "lack of regard for ethnic hair" in the new regulations is apparent.
"Females with natural hair take strides to style their natural hair in a professional manner when necessary; however, changes to AR 670-1 offer little to no options for females with natural hair. In the proposed changes, unauthorized hairstyles include twists, both flat twists and two strand twists, as well as dreadlocks, which are defined as 'any matted or locked coils or ropes of hair.'

U.S. Army
As you can see, the guidelines get incredibly specific. Aside from potential racial bias, they also just seem needlessly detailed. Other prohibited hair moves include having more than one inch difference in length between front and back of hair, wearing a scrunchie that clashes with hair color, and parts that are not in a straight line.
I understand the need for the army to issue broad guidelines on acceptable hair styles, as it does in other areas of appearance. But, beyond that, it could be left up to individual unit commanders. The current regulations do include a waiver system, under which women can appeal and be granted exceptions on a case by case basis. Why not start from a place of allowing women and their immediate supervisors to make those determinations? Surely people smart and capable enough to fight and die for our country are smart and capable enough to assess for themselves which hairstyles are an interference and which aren't.