Private Parts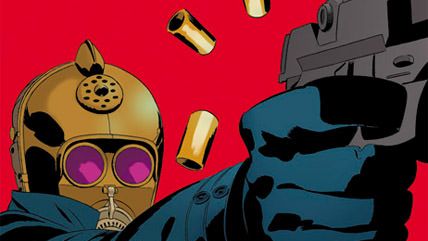 Everybody's got a secret in The Private Eye, a 10-issue online-only comic series from writer Brian K. Vaughan and artist Marcos Martin. Vaughan's cleverly conceived sci-fi detective tale takes place decades after a sort of privacy apocalypse, in which every digitally hidden secret-from chat logs to financial records to search histories-was made public.
The ensuing backlash created a world in which privacy is a sacred right and an all-consuming obsession: Adults wear masks whenever they are in public, the Internet has been banned, and librarians are gun-toting agents tasked with protecting personal information at any cost. Journalism has officially become a government-only enterprise, pot is legal, and there are off-handed references to a previous "Paul administration."
The engaging noir-tinged story tracks an unlicensed reporter's investigation into a far-reaching media conspiracy, but the real fun is in exploring the privacy-obsessed future that Vaughan and Martin have conjured up.