Rand Paul Sets Up Nationwide Network for 2016, Law Firm Say Christie Wasn't Involved in Bridge Scandal, IMF To Give Ukraine $14-18 Billion: P.M. Links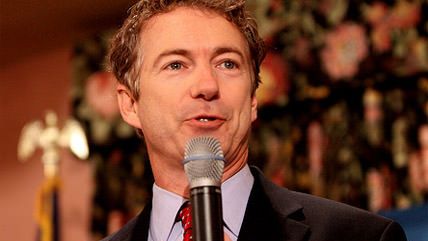 Gage Skidmore CC BY

Rand Paul's campaign organization has assembled 200 people across all 50 states, making him the first potential presidential candidate for 2016 to establish a nationwide network in preparation for the election.

A law firm that Gov. Chris Christie (R-NJ) hired to investigate New Jersey bridge closure scandal concluded that the governor was not involved.
The International Monetary Fund announced that it intends to give Ukraine $14–18 billion. Part of that package will come from the U.S.
The IRS says it will take years to respond to all of Congress's requests regarding the targeting of Tea Party groups.
Citigroup shares fell 5 percent after the bank failed a Federal Reserve stress test, an indicator of Citigroup's (in)ability to withstand serious economic downturn.
If you live in New York City and don't like juggling your groceries, you better start hoarding plastic grocery bags. The city council just introduced a bill that would impose a 10-cent fee on each bag.
Follow Reason and Reason 24/7 on Twitter, and like us on Facebook. You can also get the top stories mailed to you—sign up here.