Obama Suggests Energy Sanctions Against Russia, Bin Laden's Son-in-Law Convicted, TSA Wants More Police: P.M. Links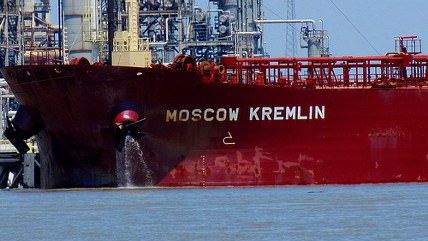 (joecabby2011 / Foter / CC BY-SA)
Credit: joecabby2011 / Foter / CC BY-SA

President Barack Obama said today a new round of sanctions against Russia could target Russia's energy sector as he urged the European Union to find new energy sources and to become less dependent on Russia. Bring on the fracking!

A jury in New York has convicted Sulaiman Abu Ghaith, a son-in-law of Osama bin Laden, of terrorism charges. The jury took only a day to come to a decision.
One employee gets killed one time at Los Angeles International Airport, and so the Transportation Security Administration is begging for armed law enforcement personnel at airport security checkpoints during "peak hours."
The governor of Michigan says the state will not recognize same-sex marriages performed over the weekend. The weddings took place between a judge's decision on Friday that the state's ban on same-sex marriage recognition was unconstitutional and a stay put in place this week while the courts review the ruling.
The death toll in anti-government protests in economically ravaged Venezuela is up to 32. President Nicolas Maduro has arrested three air force generals, accusing them of conspiring against his government.
A Turkish court has blocked its prime minister's efforts to block citizens' access and use of Twitter, which has been a tool to pass along recordings suggesting government corruption.
Follow us on Facebook and Twitter, and don't forget to sign up for Reason's daily updates for more content.