Meet the Calif. State Senator Destined to Be Parodied in the Next Grand Theft Auto Game (UPDATED)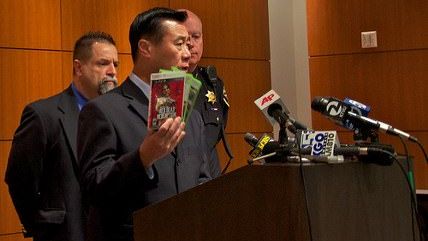 (Steve Rhodes / Foter / CC BY-NC-ND)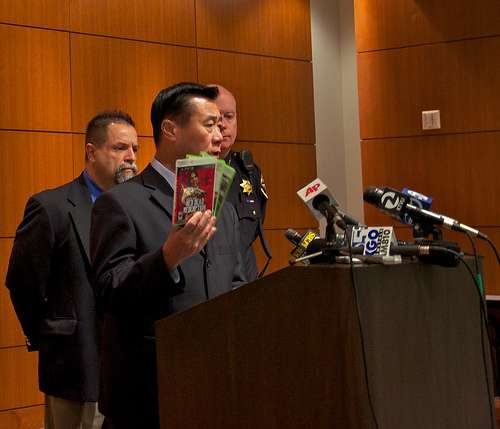 Maybe political embarrassment comes in threes? Oh who am I kidding? As if politicians feel embarrassment.
Anyway, a third Democratic state senator in California in recent months has been charged with crimes. Leland Yee, who represents the San Francisco area in the state Senate, and is running for Secretary of State, has been indicted for public corruption as part of a massive Federal Bureau of Investigation (FBI) operation in the city.
Details are still sketchy, as there's a series of raids going on in the area today connected this investigation. The San Jose Mercury News notes that Raymond "Shrimp Boy" Chow, a well-known gangster in the city, was also caught up in the raids. They provide his background:
Federal law enforcement officials have been chasing Raymond "Shrimp Boy" Chow for decades, branding him one of the longtime Bay Area leaders of a Hong Kong-based criminal syndicate called the Wo Hop To. Chow's criminal rap sheet dates back to 1978, and includes multiple federal racketeering indictments that have included allegations of attempted murder, murder-for-hire, gun trafficking and other crimes.

Chow was originally indicted in a federal racketeering probe that targeted the alleged leader of the Chinatown gang, Peter Chong. At one point, Chow cooperated with federal law enforcement officials against Chong, who had fled to Hong Kong after being indicted on racketeering charges but was later extradited and eventually convicted in San Francisco federal court in a case marred by setbacks and delays. Chow's original 1995 sentence of 24 years was lessened to 11 years as a result of his cooperation, and he has been out of prison for the past 10 years.
That Yee might possibly be connected to organized crime drew the eye of tech site ArsTechnica and other gaming sites. Lee, it turns out, was a major force behind the law to criminalize the sale of violent video games to children, a law that was ultimately struck down by the Supreme Court as unconstitutional in 2011. The site notes some of Yee's quotes on protecting children from pretend gangsters and animated violence:
Through it all, Yee remained a staunch defender of the idea that the state should aid parents in making violent games harder for children to access. He has given numerous statements over the years to that effect. "Plain and simply, the current rating system is drastically flawed, and here is yet another reason why we need legislation to assist parents and protect children," Yee told GameIndustry.biz in 2006. "This is the same technology the armed forces use to help soldiers kill the enemy. All we're saying is, 'Don't sell it to kids,'" he told The San Jose Mercury News in 2008. "When you fight the good fight for a cause you know is right and just, and it's about protecting kids, you don't ever regret that," Yee told The Sacramento Bee in 2012.
Since we don't know what Yee's accused of, I don't want to rush to directly connect him to Chow. If the FBI does accuse him of having a direct connection to Chow as part of this corruption indictment, we can look forward with how a game like Grand Theft Auto might take advantage of this apparent hypocrisy.
UPDATE: The details of the FBI complaint have been released here (pdf). Yee stands accused of a fraud scheme and of conspiracy to deal in firearms without a license as part of an effort to get donations to pay off debts from his failed run for mayor of San Francisco. Though it sounds a little sexy, the report makes it sound like a political consultant named Keith Jackson was pushing this forward.
UPDATE II: Reading much further down the complaint indicate Yee is much more directly involved in arranging a gun deal than indicated in the summary toward the beginning.
For those keeping score, the other two California state senators (both Democrats) caught up in current crime scandals are Ron Calderon, accused of taking bribes to pushing certain legislation, and Rod Wright, who was convicted of perjury for lying about living in his district.
Outside of California, Patrick Cannon, the mayor of Charlotte, N.C., (also a Democrat) was arrested today for allegedly taking bribes.