Tech Executives Meet at White House, Biden Says Obama Deserves Sainthood for Being Patient About Obamacare's Failures, Fitch Withdraws Negative Outlook on U.S. Credit: P.M. Links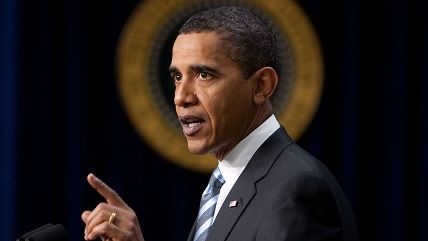 White House

President Obama was scheduled to meet with tech company executives at the White House this afternoon, reportedly to talk about "issues of privacy, technology, and intelligence" pinned to surveillance reform. The meeting was closed to the press, but Mark Zuckerberg, CEO of Facebook, and Eric Schmidt, executive chairman of Google, were reported to be attending.

Speaking at a conference of community health centers in New York, Vice President Joe Biden admitted problems with the Obamacare website after its launch made it difficult to enroll, but said he wanted to recommend President Obama for "sainthood" for how patient he was about the issues that made it difficult to use the website.
The credit ratings agency Fitch has withdrawn its "negative" outlook on the United States' triple-A credit rating. All the major ratings agencies now consider the U.S.'s outlook "stable."
First Lady Michelle Obama is making her first visit to China, focusing her trip on education, something China seems to have a handle on, unlike, say, free speech or other civil and human rights.
A feminist studies professor at the University of California at Santa Barbara who allegedly assaulted a pro-life activist on campus insisted she did nothing wrong because the activists' material "triggered" her. She said her behavior "set a good example for her students."
83 percent of March Madness brackets submitted for Warren Buffett's billion dollar challenge were already eliminated before #3 Duke lost to #14 Mercer.
Follow Reason and Reason 24/7 on Twitter, and like us on Facebook. You can also get the top stories mailed to you—sign up here.