Femen Brings Its Brand of Topless, Feminist Crazy to Times Square in Protest of Putin's Invasion of Ukraine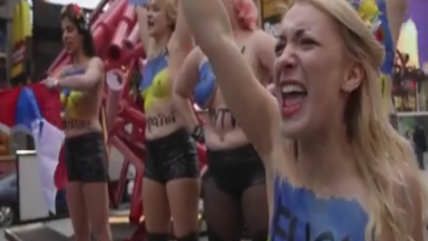 (Screenshot from Vice News video)
Ukrainian feminist group Femen bared their perennially-painted breasts in Times Square Thursday as part of an international protest campaign against the Russian forces in Crimea. "Fuck Putin!" Femen organizer Inna Shevchenko and her bevy of topless rad-fems yelled as they ripped apart Russian flags, hailed "the glory of the Ukraine," and implored the U.S. and the European Union to "stop talking (and) start acting."
An iota of background on Femen: It's a collection of militant and mostly blonde Ukrainian women who travel the world (at the behest of a man named Victor Svyatski) getting topless and making a fuss over whatever cause is hot that week. As you can probably tell, I am no great fan. Femen's philosophy is incoherent, and its tactics nonsensical—but they do know how to create a spectacle. Bet the Times Square tourists weren't expecting to encounter this on their way between the faux Ray-Ban booth and the wax museum:
In a Starbucks after the protest, Shevchenko told Vice that Russian President Vladimir Putin's actions weren't surprising. "He wants to become a tsar. He wants to have an empire," she said.
"He's not the guy who wants to care about money, like a small politician like [Viktor] Yanukovych, who wants to put all the gold in his apartment. … He's not about money. He's about power."
Meanwhile, back in Crimea, Femen activists faced a much rougher time than counterparts protesting stateside. Two were arrested. A statement on the Femen website says activists were also "severely beaten" by "pro-Russian activists."