Should We Thank Michelle Obama for Making Kids Thinner?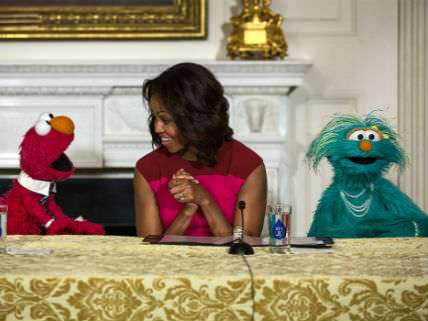 According to a study published by The Journal of the American Medical Association today, obesity fell by 40 percent among 2-to-5-year-olds between 2003 and 2012 while remaining steady in other age groups. Data collected by the National Health and Nutrition Examination Survey (NHNES) in 2011 and 2012 found that 8.4 percent of 2-to-5-year-olds were obese, compared to 13.9 percent in 2003-04. In the more recent survey, 16.9 percent of 2-to-19-year-olds and 34.9 percent of adults (20 or older) were obese, compared to 17.1 percent and 34.9 percent, respectively, in the earlier survey. Those changes were not statistically significant.
The New York Times heralds the drop in obesity among 2-to-5-year-olds as "the first broad decline in an epidemic that often leads to lifelong struggles with weight and higher risks for cancer, heart disease and stroke." Health reporter Sabrina Tavernise says "the trend came as a welcome surprise to researchers," especially since "new evidence has shown that obesity takes hold young: Children who are overweight or obese at 3 to 5 years old are five times as likely to be overweight or obese as adults." As for what caused the decline, no one really knows, but some advocates of government intervention in this area are eager to take credit.
The U.S. Centers for Disease Control and Prevention concedes that "the precise reasons for the decline in obesity among 2 to 5 year olds are not clear." CDC Director Thomas Frieden nevertheless says the trend "confirms that at least for kids, we can turn the tide and begin to reverse the obesity epidemic." Who is "we"? Michelle Obama, among others. "I am thrilled at the progress we've made over the last few years in obesity rates among our youngest Americans," the first lady says in the CDC's press release. "With the participation of kids, parents, and communities in Let's Move! these last four years, healthier habits are beginning to become the new norm."
Since Obama launched her "Let's Move!" campaign in February 2010, years after the downward trend measured by NHNES began, even her most ardent fans would have to admit something else must be going on. What about former New York Mayor Michael Bloomberg, who Tavernise says "made a major push to combat obesity"? Although Bloomberg's cap on soda servings was overturned by the courts, Tavernise notes that "the city told restaurants to stop using artificial trans fats in cooking and required chain restaurants to display calorie information on their menus." But the trans fat ban was based on concerns about cholesterol, not obesity, and there is little evidence that New York's conspicuous calories counts have made anyone thinner, let alone contributed to a nationwide drop in obesity among preschoolers that began before the mandate.
"Many scientists doubt that anti-obesity programs actually work," Tavernise concedes, "but proponents of the programs say a broad set of policies applied systematically over a period of time can affect behavior." In other words, each intervention has zero measurable effect, but when you add up all those zeros, you somehow get a 40 percent decline in obesity among little kids. Synergy!
Tavernise also mentions changes in the Supplemental Nutrition Program for Women, Infants, and Children (WIC), which has "reduced funding for fruit juices, cheese and eggs and increased it for whole fruits and vegetables." She notes that "children now consume fewer calories from sugary beverages than they did in 1999" and that "more women are breast-feeding, which can lead to a healthier range of weight gain for young children." Yet while "federal researchers have also chronicled a drop in overall calories for children in the past decade," Tavernise says, "health experts said those declines [7 percent for boys and 4 percent for girls] were too small to make much difference." If so, it is hard to see how changes in food subsidies or soda consumption could have had much of an impact.
What about activity levels? If little kids are burning more calories than they did a decade ago, it probably has little to do with deliberate interventions like those advocated by Michelle Obama. A 2012 BMJ meta-analysis of 30 studies found "strong evidence that physical activity interventions have had only a small effect (approximately 4 minutes more walking or running per day) on children's overall activity levels." The researchers said "this finding may explain, in part, why such interventions have had limited success in reducing the body mass index or body fat of children."