US May Actually, Really Say Goodbye to Afghanistan, John Dingell's Wife to Announce Run for His Seat, US Expels Venezuelan Diplomats: P.M. Links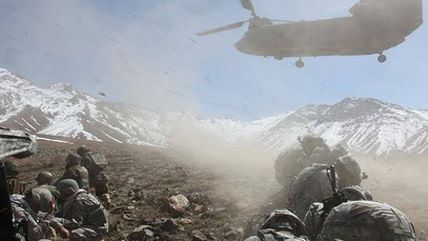 (isafmedia / Foter / CC BY)
Credit: isafmedia / Foter / CC BY

President Barack Obama has reportedly told Afghan President Hamid Karzai that the U.S. is planning to pull all troops out of the country by the year's end.

Debbie Dingell, wife of Rep. John Dingell (D-Mich.) will announce on Friday that she will pursue her husband's seat in office. He is retiring after 58 years.
Asiana Airlines has been fined $500,000 by the feds for failing to assist family members of passengers in last year's crash in San Francisco where three died. It's the first time an airline has been fined for this type of violation.
The United States expelled three Venezuelan diplomats in retaliation for the Venezuelan government doing the same to the U.S.
Those close to Arizona Gov. Jan Brewer believe she is planning to veto the attention-grabbing bill that allows business to discriminate against customers on the basis of religious beliefs.
In a pair of Supreme Court decisions today, the court ruled that police can search homes without warrants if a resident consents, even if another resident refuses, and in another case, that the courts can freeze a defendant's assets prior to a court case, even if it interferes with the defendant's ability to hire a lawyer to fight the charges.
Follow us on Facebook and Twitter, and don't forget to sign up for Reason's daily updates for more content.