Chicago Bans Vaping in Public; Senators Want It Banned at Award Ceremonies—for the Children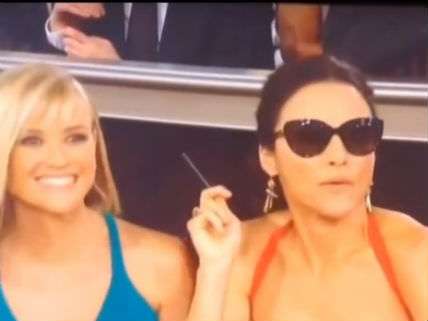 Today, as anticipated, the Chicago City Council approved an ordinance that adds e-cigarettes to the city's Clean Indoor Air Act, meaning that vaping will be prohibited everywhere smoking is. The vote was 45 to 4, a resounding endorsement of a scientifically groundless, emotion-driven policy that is likely to accomplish exactly the opposite of what its backers say they are trying to do (i.e., reduce tobacco-related disease). Mayor Rahm Emanuel implausibly portrayed the vaping ban, which will discourage smokers from switching to a far less dangerous method of consuming nicotine, as a victory against Big Tobacco. NJOY, a leading e-cigarette manufacturer, was closer to the mark:
This vote lacks any scientific basis and reflects a clear misunderstanding on the part of the City Council of the serious unintended consequences to public health that their actions will cause. Make no mistake: This will only benefit Big Tobacco, and is a step backward in the fight against the tobacco epidemic. Today, Big Tobacco has no greater ally than supporters of initiatives like this one. With as many as 43 million smokers remaining in the United States and over 420,000 of them expected to die prematurely in the coming year, it is paramount that we not confuse an increasingly effective solution that gives smokers an alternative to toxic and deadly combustible tobacco cigarettes with the problem of tobacco cigarette smoking. History and science will judge harshly those who abandon science, undermine the public health and prolong the tobacco epidemic.
Unable to muster any evidence that e-cigarette vapor poses a hazard to bystanders, the ban's supporters say they are trying to protect children who might confuse e-cigarettes with the real thing and conclude that smoking must be cool again. In the same vein, four Democratic senators yesterday sent a letter to NBC and the Hollywood Foreign Press Association complaining about celebrities with e-cigarettes at this year's Golden Globe Awards. Sens. Dick Durbin (Ill.), Richard Blumenthal (Conn.), Sherrod Brown (Ohio), and Edward Markey (Mass.) worry that vaping, which appeals to people precisely because it is less hazardous and annoying than smoking, will somehow rehabilitate the latter habit:
We are troubled that these images glamorize smoking and serve as celebrity endorsements that could encourage young fans to begin smoking traditional cigarettes…

E-cigarettes marketed to appeal to kids in candy and fruit flavors, like bubblegum and strawberry, are readily available to youth in shopping malls and online. These products risk addicting children to nicotine, which could be a pathway to cigarettes and other tobacco products.
I suppose vaping "could be" a gateway to smoking, in the sense that it is not logically impossible. But there is no evidence anything like that is happening. Furthermore, Durbin et al.'s insistence that "candy and fruit flavors" must be aimed at children is belied by the choices of adult consumers who prefer those flavors. If the senators were paying attention, they would notice all the young women exhaling fruity plumes of vapor, many of whom would otherwise be smoking. In terms of health risks, they are much better off for having made this switch. Why should the interests of actual adults be sacrificed in the name of hypothetical children?