I Tried, and Failed, To Sign Up For Obamacare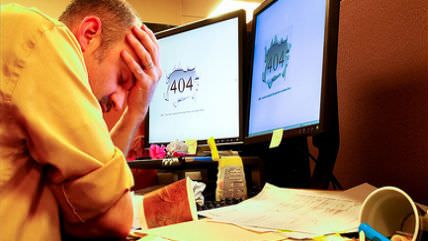 "Obviously, we screwed it up." —President Barack Obama, December 20, 2013, discussing health care reform in response to a question at a year-end press conference.
I tried to use the Obamacare exchange in my state, I really did. I probably spent about seven hours on the site in four or five sessions over the past few months.
Theoretically, I'm the sort of person who might benefit from the program. I don't work for a big company that provides health insurance for its employees. We had been getting our family health insurance by paying for a "cobra" policy that extended the benefits my wife had gotten from her former job, but that has an 18-month time limit. So we need new health insurance for our family effective January 1, 2014. (A modest health reform might extend that 18-month time limit to, say, four years, but the drafters of Obamacare were not interested in modest reforms.)
In the past, I had bought health insurance through the Authors Guild. But because Obamacare outlawed individual policies of the sort that had been available through the Guild, that is no longer an option. (A modest health reform might have encouraged the purchasing or provision of health insurance through voluntary professional associations such as the Authors Guild, but the drafters of Obamacare were not interested in modest reforms.)
I live in Massachusetts, a state that had, under Gov. Mitt Romney, pioneered the "individual mandate" and "universal coverage" that are at the center of Obamacare. You'd think they'd have a functioning Web site for health insurance. And they did, a year or so ago when I window-shopped for health insurance. Since then, however, to become compliant with Obamacare, the state scrapped the old RomneyCare web site and replaced it with a non-functioning Obamacare site.
By "non-functioning," I mean, "non-functioning." As in, it really doesn't work.
Initially, I waited, figuring the site would be fixed by the time I needed to buy insurance. Indeed, there were plenty of signs that the site was being repaired.
"Attention: scheduled maintenance: This site will be unavailable from Wednesday December 11th at 2 p.m. until Thursday December 12th at 5 a.m.," the home page declared at one point. When I returned another time, there was no time span given, just a sign that said "Maintenance in Progress: Welcome The Massachusetts Health Connector is currently undergoing maintenance. Your health coverage needs are extremely important to us. Please check back soon."
Obamacare's defenders like to blame Republican obstructionism for the program's problems. But Massachusetts has a Democratic governor, Deval Patrick, who is such a pal of the president's that they regularly have dinner during Obama's Martha's Vineyard vacations. Both houses of the state legislature are solidly under Democratic control. One can't blame the Republicans for this one.
I did call the phone number listed on the site and ask for help at one point. The woman who answered helpfully told me that the language on the site about a December 15 deadline was wrong, and that I actually had until December 23. She also gave me the phone numbers of three insurance companies I could call directly. (A modest health reform might have just planned on consumers purchasing insurance directly from insurance companies rather than on some government-operated web site, but the drafters of Obamacare were not interested in modest reforms.)
The Massachusetts Web site did eventually begin to function well enough for me to compare plans and find one that would work best for me. I stuck it in the shopping cart the way you would with a purchase at L.L. Bean or any other online shopping site.
Instead of a credit-card check-out, though, I found myself in a kind of tax-return hell. The annual pre-April 15 encounter with the IRS is bad enough, but the idea that one should be required to go through the whole thing before buying some health insurance is downright obnoxious. The website wouldn't accept a hyphenated last name. It had strong opinions about abortion ("How many people are in your family? Include unborn child(ren) if  someone is pregnant.")
Finally, about two-and-a-half hours in, I got an error message that said "a connection to the server has failed. (status=503)."
That's when I gave up on Obamacare and went to the Web site of a health insurance company. Unlike the government web site, the health insurance company's Web site worked, at least long enough for me to enroll. It was not ideal—"sorry, credit card payments are not accepted."And they don't seem to accept electronic copies of the three proofs of state residency, either. But at least it's possible to purchase health insurance that way—or at least I hope it is. If it isn't, I plan to blame President Obama. He's the one who, by his own admission, screwed it up.