Prostitution Freed From Legal Restrictions in Canada
Sex workers wanting to be left alone get a big boost from Canada's Supreme Court.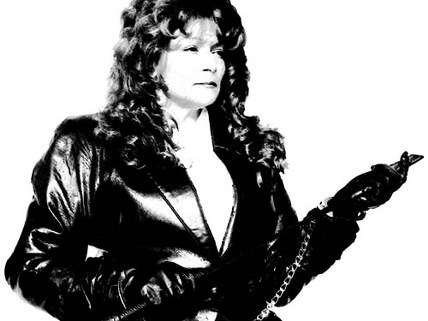 Yesterday, the long running saga of sex worker Terri Jean Bedford's (pictured at right) challenge to Canadian restrictions on prostitution came to a head as the Supreme Court of Canada unanimously struck down several such laws in Canada v. Bedford. Declaring laws restricting brothel-keeping, negotiating the terms of a sexual encounter, and living on the proceeds of prostitution to be unconstitutional, Chief Justice Beverley McLachlin wrote that such laws "infringe the … rights of prostitutes by depriving them of security of the person in a manner that is not in accordance with the principles of fundamental justice."
The decision is set to take effect in a year's time, with the expectation that the Canadian government will meanwhile decide what laws, if any, would be suitable and appropriate to replace the current ones. The decision is being watched with particular interest in the UK and in Ireland where the laws are very similar to those of Canada. There, calls for criminalization have worked their way through the system over last year.
Already, the decision is being decried by the losing side with complaints of how dangerous it would be for Canada to become "the next Amsterdam." On the one hand this is true: the Dutch system does not work. I have a friend who is an escort in the Netherlands and her home is regularly raided by police who accuse her of running an unlicensed brothel, even though she's an independent escort who works alone. Because she doesn't want to work in the kamers (windows) or a licensed privathuis (brothel), she's illegal. It's a system that makes no sense.
In Amsterdam, plans to continue to close kamers in the Walletjes and elsewhere mean more sex workers will have to go off the government radar to work. When I was in Amsterdam a couple of months ago, talking to women in the windows and brothels, one thing was clear: if the police get any worse in Holland many will simply move on to Germany.
But sex workers would prefer to not work in a country like the Netherlands or like Germany, and certainly not in the dangerous and misguided setup endorsed by Sweden. Laws there make buying sex illegal, in theory criminalizing only the customer, but in effect also criminalizing the workers themselves, who struggle to find adequate housing and to access social services because of their status. Rather, most sex workers advocate for full decriminalization—as seen in the laws of New Zealand and New South Wales, Australia—as the best way to ensure minimum abuses and maximum access to rights for the men and women who are sex workers.
Decriminalization, in the context of sex work, means the elimination of all, or most, regulations pertaining to where and how sex work can be carried out. This is distinct from legalization, where only particular setups are permitted, such as licensed brothels and premises. While legalization solves some problems, it can create others when the restrictions place all the power in the hands of bosses, as has been the case in Nevada.
Laws that criminalize activities around sex work keep the most vulnerable from being able to confidently work in safer conditions without fear of arrest. They also deter sex workers from reporting crimes against them or suspicious people to law enforcement. When I worked as an escort in London, I worked with the knowledge that what I was doing was legal. But those less fortunate than me who worked on the streets did not have that level of safety. The poor outcomes that this leads to have been noted at length by the Supreme Court in the Bedford ruling. Government should not be making potentially risky choices more risky.
Criminalization often leads to arrest records, which impedes those who wish to exit the business. And, in Scotland, increased police raids on saunas in Edinburgh use possession of condoms as evidence of criminality, potentially putting public health at risk. Similar raids in Soho, London have been criticized by actor and activist Rupert Everett as a cynical "land grab."
Full criminalization (as is mandated in most areas of the United States) has failed to eliminate either the supply or the demand for sex work. Increasingly, the workers and the organizations that support them are calling for full decriminalization instead. This is a view also supported by the WHO, UNAIDS, and other international aid agencies. It echoes the human rights approach to drug policy that is increasingly turning over decades of failed "War on Drugs" criminality and despair.
Hovering over the Canadian ruling have been the shadows of the 49 victims of Robert Pickton, a pig farmer convicted of the murders of women he picked up from downtown Vancouver over a 20-year period. It was claimed that human meat may have been mixed into ground pork produced by his farms; others have said he may have fed the bodies of some of his victims to the animals. If the laws were different, less stigmatizing, would Pickton have been detected sooner? Would the authorities have cared to do something earlier? That's what many believe.
As the unanimous court decision states:
The prohibitions all heighten the risks the applicants face in prostitution—itself a legal activity. They do not merely impose conditions on how prostitutes operate. They go a critical step further, by imposing dangerous conditions on prostitution; they prevent people engaged in a risky—but legal—activity from taking steps to protect themselves from the risks … Moreover, it makes no difference that the conduct of pimps and johns is the immediate source of the harms suffered by prostitutes. The violence of a john does not diminish the role of the state in making a prostitute more vulnerable to that violence.
Will Canada's government craft a model of decriminalization, or something else, in the year until the new ruling takes effect? At this point it is difficult to say what motivation the Harper government has, if any, to make real and substantial changes in this area that advance rights and safety of sex workers. But for the people like Terri Jean Bradford who have fought a long time for this day, and the team at Pivot Legal who supported them, at least there is finally hope.