Anchorman 2: The Legend Continues
Will Ferrell returns in a good-not-great sequel.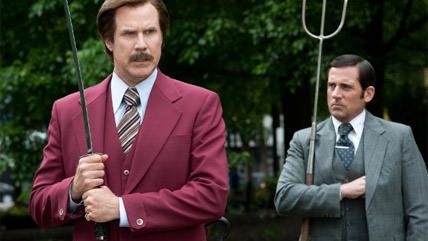 One understands why Will Ferrell and director Adam McKay waited so many years to follow up Anchorman: The Legend of Ron Burgundy. That 2004 hit, which they co-wrote, seemed to take wild non-sequitur humor as far as it could go—its scabrous raunch approached perfection. A sequel would have to expand upon the earlier film's concept of a preening TV nitwit amok in the happy-talk local-news scene of the 1970s. Could such a movie ever be more than a re-tread?
Well, Ferrell and McKay finally went ahead and made that sequel, and here it is, and yes, they've extended their story in a clever way. The year is now 1980, and Ron (Ferrell) and his onetime nemesis Veronica Corningstone (Christina Applegate) are married-with-kid and have moved up to the big time, co-anchoring a weekend newscast in New York City. As the story begins, we see their boss, Mack Harken (Harrison Ford), firing Ron—for being an idiot, of course—and promoting Veronica to become the first female anchor on the network's primetime news show. Ron is crushed. After Veronica dumps him, he returns to his home turf of San Diego, where he fails to stay classy. Then he's approached by a talent-scouting producer (Dylan Baker) who's assembling an on-air roster for a radical new venture: a 24-hour news operation called Global News Network, which is being launched by an Australian gazillionaire named Allenby (Josh Lawson). (This conflation of CNN and Fox News is way off chronologically, but still pretty funny.)
Ron accepts the offer and sets about rounding up his old team. He finds weird sports guy Champ Kind (David Koechner) running a fast-food chicken restaurant (well, "chicken of the cave"—also pretty funny). Onetime investigative reporter Brian Fantana (Paul Rudd) has become a kitten photographer for a magazine called Cat Fancy. And bonehead weatherman Brick Tamland (Steve Carell) has just died—although not exactly. (When the boys arrive at his funeral, they find Brick himself giving the eulogy—a scene that's more than a little limp.)
After surviving a really funny slo-mo auto crash on their way to New York, Ron and company arrive at GNN headquarters to discover that the hard-ass news chief (Meagan Good) is not only a woman, but a black woman ("Black!" Ron blurts out, by way of introduction), and that a rival anchor named Jack Lime (James Marsden) is already Ron's sworn enemy. But it's Ron who comes up with a game-changing concept for the upstart network. "Why tell the people what they need to hear?" he asks. "Why can't we tell them what they want to hear?"
And so we see that witless Ron Burgundy is the author of ratings-obsessed cable news as we now know it—heavy with soft features and over-lacquered anchors and extra-heavy with zap-pow onscreen graphics. Very clever, as I say—although laced with predictable Hollywood condescension toward Middle America (GNN's viewers are shown to be even bigger morons than Ron Burgundy) and lightly pocked with liberal cliché ("What happens when the powerful own the news?").
As serviceable as the plot is, though, it's the strafe-and-burn dialogue we've come to hear, and this is a bit of a letdown. There are some rousingly absurd lines. (Looking back over his long life, Mack Harken says, "I killed four men in Okinawa. That was four weeks ago.") But Ron's out-of-the-blue oaths this time around ("By the hymen of Olivia Newton-John!") are strained; and some of Brick's verbal eruptions ("I'm wearing two pairs of pants!") are fake-funny—semi-amusing because they come out of nowhere, but basically just odd, and flat.
It helps that Brick has been given a love interest here, a spaced-out secretary (Kristen Wiig) who's just as loosely wrapped as he is. And while a big battle of international network news teams is essentially a re-run of a sequence in the first Burgundy film, here it's pumped up with an all-new herd of guest-star cameos (as well as the ghost of Stonewall Jackson). But Ron's jive-talking dinner with a black family is gratingly dated; and interludes with his sweet, needy son (Judah Nelson) are a recurring annoyance.
The Legend Continues isn't likely to resonate in popular culture the way the first film did—its japes and random jabberings aren't as memorable. It's a funny sequel—there are some choice bits. But for prime Burgundy, it's not quite funny enough.