Meet the Vinyl Community
Welcome to a weird, wonderful world where people watch each other play old records on YouTube.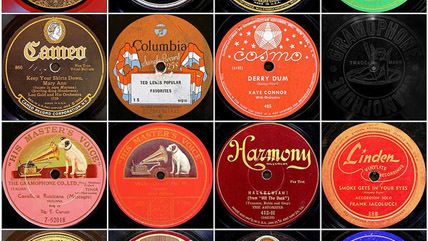 The man holds up a 78 rpm record bearing the blue-and-white logo of Chess Records, an iconic label for any fan of the blues. He places it on a vintage Califone turntable, and we hear Howlin' Wolf's "Rockin' Daddy" in all its tactile glory. The song plays for three minutes and six seconds. And then the brief video ends.
It's the summer of 2010, and I've just stumbled on a subculture: not just fans of old music on vinyl records, but fans who post videos of those records playing on YouTube. The man holding the Howlin' Wolf 78 is Rich Hynes, owner of the Underground Record Shop in Indianapolis. I discover that he has posted many more clips as well. Sometimes they feature artists I've enjoyed for years, such as Muddy Waters and Johnny Cash; sometimes they introduce me to great musicians I've never encountered before, such as the Alabama Jug Band and the rockabilly pioneer Lattie Moore.
Soon I'm watching more vinyl clips on other YouTube channels. Before long I'm uploading my own videos, featuring artists ranging from the Texas blues legend Lightnin' Hopkins to the Tennessee bluegrass should-have-been-a-legend Phil Chittum.
Hynes started uploading his videos both to promote his merchandise and to spare his fragile old records from being overplayed. "I often rescue records out of garages and basements," he says, "clean them up, make a video, put the record in a storage sleeve and only watch the video when I want to hear the song." Thanks to YouTube, anyone else with an Internet connection can listen too. Channels such as Hynes' let viewers hear and see music being played in its original format, and sometimes they offer access to music available nowhere else.
But it is the loosely defined "Vinyl Community" gathered around those channels who really represent YouTube's participatory nature. Members of the VC, as the Vinyl Community calls itself, don't limit themselves to pointing their cameras at spinning discs. They watch and respond to each other's videos, discuss recent purchases, document trips to record stores, show off their music collections and the rooms that house them, and review new releases.
With low barriers to entry, the quality of the videos varies from rank amateur to almost professional. The most compelling new channel of 2013 may be Chinasc12, whose youthful proprietor Sydney gained 300 subscribers in a month after launching in March. She can be seen discussing Dylan, Patti Smith, the Velvet Underground, Bikini Kill, and the finer points of Miles Davis and Gil Evans' collaborations in mono, and she occasionally uploads her own covers of songs, such as the Smiths' "I Won't Share You." Sydney not only discusses music from the last six decades with a level of knowledge that belies her brief 14 years on the planet; she also frequently places music in the context of her own life, explaining how different artists inspire her own creative pursuits and match her own personality.
What would possess someone to go on camera to talk about records? Rob Clark, a VC member in the Chicago area, began making videos to document and share his large record collection with what he good-naturedly describes as his "music geek friends." Clark, whose channel EoLoVoX now has more than 1,500 subscribers, soon noticed that he wasn't alone, and he formally introduced himself to the VC in a February 2011 video. Clark describes the influence that the community has had on him: "Being part of the VC on YouTube has broadened my musical horizons, strengthened my passion for music…and cost me a lot of money."
No genre or artist is off limits. In spite of this diverse conversation, the VC is remarkably well-behaved for an online community: Trolling, flame wars, and the like are very rare. "An aspect of the VC that seems to set us apart from other music forums and groups," Clark says, "is that we hold mutual respect and tolerance up as an underlying tenet."
Five years ago, mainstream media outlets began to notice that the moribund market for records was returning to life. Vinyl record sales surged to 4.6 million in 2012-an 18 percent increase over 2011, though just still a tiny fraction of the 316 million albums across all formats sold last year. Vinyl can't match the convenience of digital music, which allows the listener to carry a record wall full of music in a compact laptop or in a tiny iPod. The VCers demonstrate that the benefits of owning actual records are, ironically, more intangible.