Just How Low Is Enrollment In Obamacare's Federal Exchange System?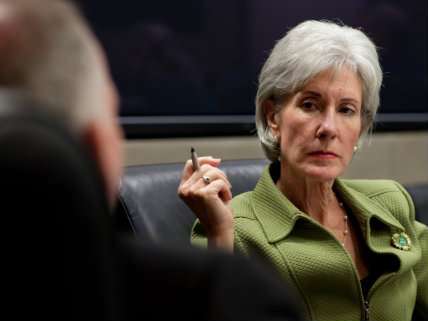 The Obama administration has touted high web traffic numbers as evidence of unexpectedly large demand for insurance through Obamacare's exchanges. But it's not clear that many people are actually able to sign up for insurance in the exchanges being run by the federal government.
The administration says that there have been some successes, but won't say how many or in what states. And as I noted last night, news reports so far suggest that almost everyone who has tried to enroll themselves or others in the 36 states where the exchanges are being run federally has been stymied by technology failures.
So it may be that at this point almost no one has managed to get all the way through the online enrollment process. A report in The Washington Post this morning provides further evidence that the number of people who have completed the enrollment process in the federal exchanges may be very, very low.
Interviews with health insurers, industry consultants, nonprofit groups and people trying to sign up for coverage suggested that the number was very low. Some companies that are offering plans on the federal site said Wednesday that no one had signed up with them.

"Very, very few people that we're aware of have enrolled in the federal exchange," said one insurance industry official, who like many in the industry, spoke on the condition of anonymity out of concern for possibly offending the Obama administration. "We are talking single digits."

A spokesman for one major Blue Cross Blue Shield plan in a southern state said that, as of Wednesday afternoon, it had not received word from federal health officials of any customers who had completed enrollment in the plan — even though a local news outlet had reported about a man who thought he had signed up. So, plan officials didn't know whether the man's enrollment was incomplete or whether the federal reporting of enrollment was running behind.
The quote from the unnamed insurance official is notable not only because he suggests that the number of successful enrollees is in "single digits," but because the quote was only given "on the condition of anonymity out of concern for possibly offending the Obama administration." So not only is the number likely to be quite low, the insurance official believes that the Obama administration is eager to keep people from knowing that the number is quite low.
Elsewhere in The Washington Post, another reporter talks to Chad Henderson, a Georgia man who says he successfully enrolled through the federally facilitated insurance exchange. Henderson's contact information was provided to the Post and reporters at other publications by Enroll America, a nonprofit devoted to signing up people for health insurance under Obamacare run by a former White House communications official. A Chicago Tribune reporter contacted a woman in Illinois who enrolled through the federal exchange. He found out about her after Health and Human Services Secretary Kathleen Sebelius retweeted the woman's Twitter post announcing her successful enrollment.
The high number of reports that the federal exchanges are inaccessible, and the limited number of reports of individuals who have successfully enrolled, suggest that very few people have been able to complete the entire enrollment process online so far.
The administration, which has been quick to tout its web traffic figures as evidence that the exchanges are in high demand, could end any uncertainty about enrollment in the federal exchanges by releasing enrollment figures for the federal exchanges. But they haven't yet. Is that because the numbers so far are so low that they would undermine the administration's argument that Obamacare is valuable because it is in high demand?