Meddling Officials Put Kibosh on Crazy Naked Haunted House Plan
No stripping at Shocktoberfest!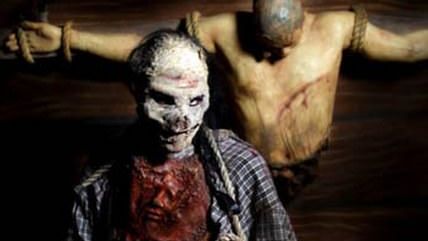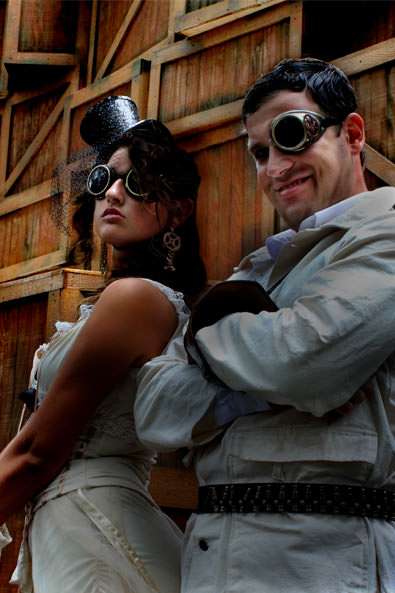 What kind of country do we live in where a man can't strip down to his birthday suit and run naked through a warehouse full of people dressed up like zombies, mad scientists, and murderous psychos pretending to try to kill him?
Sadly, even though a haunted house operator in Pennsylvania invited willing customers to do exactly that, it apparently is not to be, at least not this year. Shocktoberfest, a "haunted scream park" in Sinking Spring, Pa., invited participants to actually make their way through one of their attractions totally starkers. From their site:
The Naked and Scared Challenge allows participants to go through the Unknown Haunted House Nude or Prude (either totally nude or with underwear). It takes place at the end of the night after all customers have gone through the attraction. Participants must be 18 years of age or older and must sign a waiver. Participants undress in a semi-private preshow building, experience the Unknown Haunted House, and then exist into a semi-private fenced courtyard where they will get dressed. Participants are never in view of minors or non-participating customers.
The idea seems deeply silly rather than scary (but then that tends to be my attitude toward haunted houses anyways). In any event, the stunt garnered media coverage from across the country.
Then, of course, it drew the attention of meddling government officials. Consenting adults getting naked and getting screamed at? Sounds like something that should need a special permit or permission or whatever. Anything that is not permitted is forbidden! Courtesy of Trib Live in Pittsburgh:
"Borough officials took the position that this is adult entertainment," said Pat Konopelski, who runs Shocktoberfest on his farm. "What we are doing clearly is not adult entertainment. But, not wanting to pick fights with our neighbors or township officials, I conceded and said: 'Does anybody have a problem with the prude option?' They said 'No, that's fine.' "

Konopelski's "scream park" lies in Spring Township and Sinking Spring Borough. Sinking Spring Mayor Francis Butkus said lawyers were concerned that adding nudity to the popular "scream house" — now in its 30th year — would violate zoning laws.

"I'm not a lawyer. I'm just a small-town mayor, but according to our zoning area, it's not zoned for that type of entertainment," Butkus said.
The haunted house folks hope to hammer out the problem and attempt to offer the "experience" next year. Until then, visitors may not shock out with their cocks out.
(Hat tip to Aaron Aupperlee, a former coworker of mine who is now at the Pittsburgh Tribune-Review)