45 Years, 45 Days: Rand Paul, the Son Also Rises
For 45 days, we'll be celebrating Reason's 45th anniversary by releasing a story a day from the archives—one for each year of the magazine's history. See the full list here.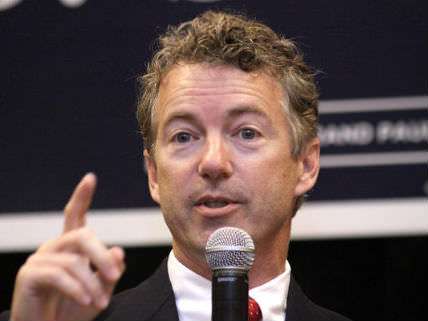 Writing in Reason's May 2010 issue, W. James Antle III reported from Rand Paul's surprisingly successful campaign for the U.S. Senate:
The Rally for the Republicans at the Kentucky Fair & Exposition Center isn't your standard rubber-chicken campaign event. Frank Simon, a Louisville religious-right leader known for his strong opposition to gay marriage, leads the crowd of 800 in the Pledge of Allegiance. The Rev. Jerry Stephenson, a conservative black pastor, delivers the invocation, asking "Father God" to "help us start a revolution." Then the Grammy-nominated rock and reggae singer Aimee Allen, decked out in tattoos, patterned stockings, and high-top sneakers, performs a three-song set, culminating in an anthem helped along by the candidate's sons on acoustic guitars: "We don't want no war no more / Bring our boys home to our shore."…
Nearly an hour later, the audience, which paid $25 a head, is treated to the main event: Rand Paul, a candidate for the Republican nomination for U.S. Senate, making his first joint appearance with his famous father, Ron Paul, the libertarian presidential candidate and 11-term GOP congressman from Texas.
"It was a little weird," Rand Paul's campaign manager, David Adams, admits afterward. "But it also shows what's great about our movement. We are building a big tent that appeals to everyone from the civil libertarians to the Christian right." That tent covers a vast army of hippies, Birchers, don't-tread-on-me libertarians, Tea Party activists, conservatives clinging to either Bibles or guns, and blue blazer–wearing GOP regulars. Rand Paul has managed to tap into his father's national following of libertarians and anti-war advocates without (so far) alienating traditional Republicans in the Blue Grass State.
This highly unusual combination may make Rand Paul the most serious libertarian-leaning candidate for U.S. Senate in recent history.