Fox Network Declines to Air Amateur Porn Mom Episode of New Animated Show (UPDATED)
UPDATE 8/29/2013 3:30pm: The original title of this post ("FCC Bans Amateur Porn Mom Episode of New Animated Fox Show") citing the blog Splitsider was incorrect: The FCC doesn't ban content on broadcast televison or radio but rather fines networks and stations after material is aired and is deemed actionable. While the fear of FCC fines may have played a factor in the episode not airing, the FCC itself doesn't ban anything. That is up to various networks' standards and practices departments, which regulate content for a wide variety of reasons, including audience and advertiser expectations, aesthetics, and potential legal action.
[This update continues near the bottom of the post]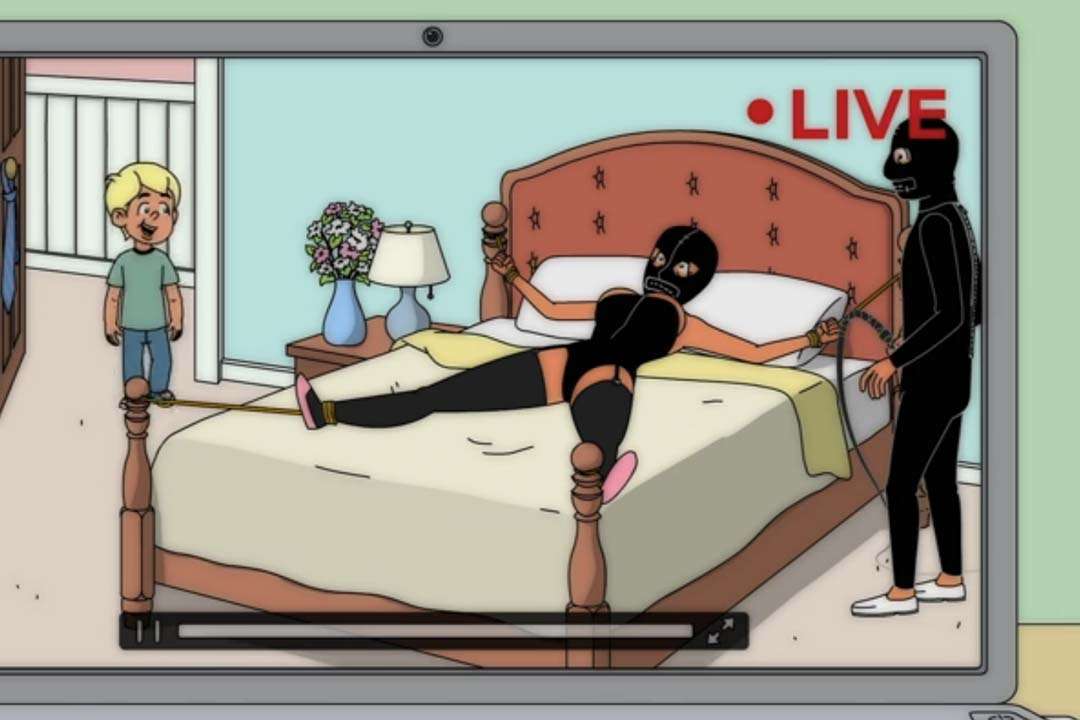 Splitsider reported that the Aug. 24 episode of High School USA, part of Fox's new animated block of programming called Animation Domination High Definition (ADHD), was banned by the Federal Communications Commission.
Creator, Dino Stamatopoulos, announced the news via Facebook saying, "FCC won't let us air this week's High School USA! this week. Pretty great."
"Best Friends Forever" was the title of the often heartfelt episode that featured a storyline about a teenage daughter upset that her mother had become an amateur adult film star "without telling her all the perverted details." The episode is available via Hulu with the disclaimer: "Intended only for mature audiences. Viewer discretion advised."
ADHD's programming premiered online with animated shorts and a website full of GIF images and social media friendly content; Then it began airing in its regular slot on television July 27. Even before it aired though, the Parent's Television Council (PTC), which says it promotes family-friendly programming, was calling the animated shows, "horrifically graphic, ultra-violent, sexually explicit, and profanity-laden." A press release from PTC, July 23:
Fox would have us believe that such extremely explicit programming is intended only for adult audiences. Yet they must know the content is inherently attractive to children with animated formats and themes like 'High School USA!' and 'Scientifically Accurate Spider Man.'
While Parent's Television Council may have gotten their wish granted by FCC regulators when an episode got pulled, the state of content consumption today shows how outdated FCC regulations and groups like the Parent's Television Council have become. Fox Broadcasting put it a little more diplomatically in its public comment to the FCC in June of this year:
Not only does broadcasting represent just a small sliver of the panoply of video content available to an average consumer today, it is also less uniquely pervasive and accessible to children than it was 30+ years ago.
Further, someone could watch a show deemed "indecent" by the FCC on broadcast television simultaneously as they watch it on a phone, tablet or computer, over which the FCC has no content-regulation power. Because of this dichotomy Fox said it was being held to a different standard:
The steady advances in video technology, and corresponding shifts in consumer viewing habits, have eradicated any justification that may once have existed for subjecting broadcasters to less First Amendment protection than other media.
Reason TV spoke with one of the writers for ADHD in July, Heather Anne Campbell, who writes many of the animated shorts that appear at FoxADHD.com.
[UPDATE 8/29/2013, CONT.]
After the post, I followed up with creator Dino Stamatopoulos via Facebook and asked whether Fox's standards and practices department said that the episode would not pass FCC guidelines or if the FCC stepped in, to which he replied, "From what I understand it was FCC."
The FCC's media department declined comment as of today.
The episode in question, "Best Friends Forever," was available on Hulu and Amazon Instant Streaming, but appears not to be available on either site now. It is available on torrent sites like this one though.
In the 2012 Supreme Court case Federal Communications Commission v. Fox Television Stations, the court ruled that the FCC didn't give Fox Broadcasting, who would have faced fines, enough notice of their new policy on idecency. From the NYTimes:
It left open the question of whether changes in the media landscape have undermined the rationales for limiting their free-speech rights in ways the First Amendment would not tolerate in other settings. Cable television and the Internet are not subject to government regulation of ostensibly indecent material.
The court stopped short, as it did in 2009 with the same case, from looking at the First Amendment issues rasied.