Summer Reading, Modern and Classic
Murder at the Fed, capitalism in Balzac's France, Thomas Mann's family saga, and what it takes to beat the market.
Hidden Order: A Thriller, by Brad Thor, Atria/Emily Bestler Books, 384 pages, $27.99
Vice President Joe Biden opined last year on Meet the Press that the TV sitcom Will & Grace had done more to educate the public about gay marriage than "almost anything anybody has done so far." Biden was surely right to suggest that popular culture is where people discuss and articulate hopes and fears long before lawmakers get around to addressing them.
Which brings us to another piece of popular culture: best-selling author Brad Thor's new novel, Hidden Order. Improbably, it manages to weave the Federal Reserve, rogue elements within the CIA, the free-market economics of the late economic journalist Henry Hazlitt, and ultrasecret private-security contractors into an absolutely irresistible paranoid thriller reminiscent of the best of Frederick Forsyth, Robert Ludlum, or Richard Condon. And what Will & Grace did for gay marriage, it just may do for the Ron Paul "end the Fed" crowd.
The action starts just after the chairman of the Federal Reserve dies unexpectedly. Five candidates are named to replace him—and they not only go missing, but they also start to get brutally murdered. The first mutilated corpse has a note tacked on it: "Today is already the tomorrow which the bad economist yesterday urged us to ignore." That's a quote from Economics in One Lesson, the classic 1946 laissez-faire primer written by Hazlitt, who—improbable as it would seem today—spent years as an editorial writer for the New York Times.
Enter Scot Harvath, a former Navy SEAL now working for a covert firm called the Carlton Group. Charged with figuring out the first murder and with preventing others from happening, Harvath, the recurring hero in Thor's fictional universe, is literally assigned to read Economics in One Lesson along with The Creature from Jekyll Island, a 1994 history of the Fed's origins. Panned as conspiracist nonsense by mainstream academics, the latter was championed by former Republican congressman and libertarian Ron Paul in his best-selling book, The Revolution: A Manifesto.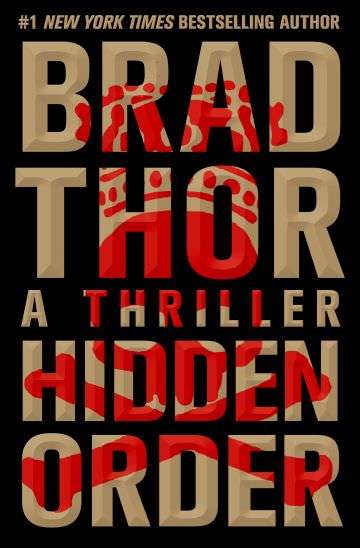 Normally, when an action hero pauses in his pursuit of bad guys to read a couple of books that deal with fractional-reserve banking and the gold standard, it's time to bail out as a reader. But Thor is not only a sharp stylist whose dialogue can explain complicated ideas without bogging down; he's also a master plotter and pacer who shifts back and forth from talk to action in a way that kept me turning the pages until the very end.
Even more than the plot twists, which are many, and an engaging cast of characters, what really drives Hidden Order is the tension between the author's obvious respect for the men and women who protect the U.S. and his fears of secret and growing state power. Thor is affiliated with the pro-Pentagon Heritage Foundation and helps out with the Department of Homeland Security's Red Cell unit, which brings in creative people to scenario-plan possible terrorist actions. At the same time, he's a regular on Glenn Beck's radio show, which is increasingly skeptical about not only what the government does but also how it operates.
Hidden Order, then, isn't just a compelling thriller, though it certainly is that. Like Stieg Larsson's Millennium series featuring punk hacker Lisbeth Salander, it's a meditation on the necessity of state power and the problems resulting from it. On some level, we need people who are capable of conspiring and lying and even killing on our behalf. At the same time, we need to make sure such people can be reined in. To say the least, a difficult balancing act.
And as though that weren't enough in the way of thematic significance, Hidden Order's focus on the role of the Federal Reserve reflects growing disquiet among the public. It wasn't surprising that long-time critic Ron Paul was talking about ending the Fed during his presidential runs in 2008 and 2012; the surprise was that crowds were gathering to hear his message and that his book, End the Fed, became a best seller.
Although later killed in the Senate, a July 2012 bill to audit the country's central bank passed the House of Representatives 327 to 98, showing incredible support for a closer look at an institution that is both central to everyday life and inscrutable to virtually all of us. If Joe Biden was right about popular culture being our principal political game changer, Brad Thor's Hidden Order may well move us one step closer to getting an inside peek at the all-powerful Fed's balance sheet.
This article originally appeared at Barron's.