Peter Bagge, Reason's Favorite Cartoonist, On Tour for his New Margaret Sanger Graphic Biography
Don't say we didn't warn you: Peter Bagge is a-coming!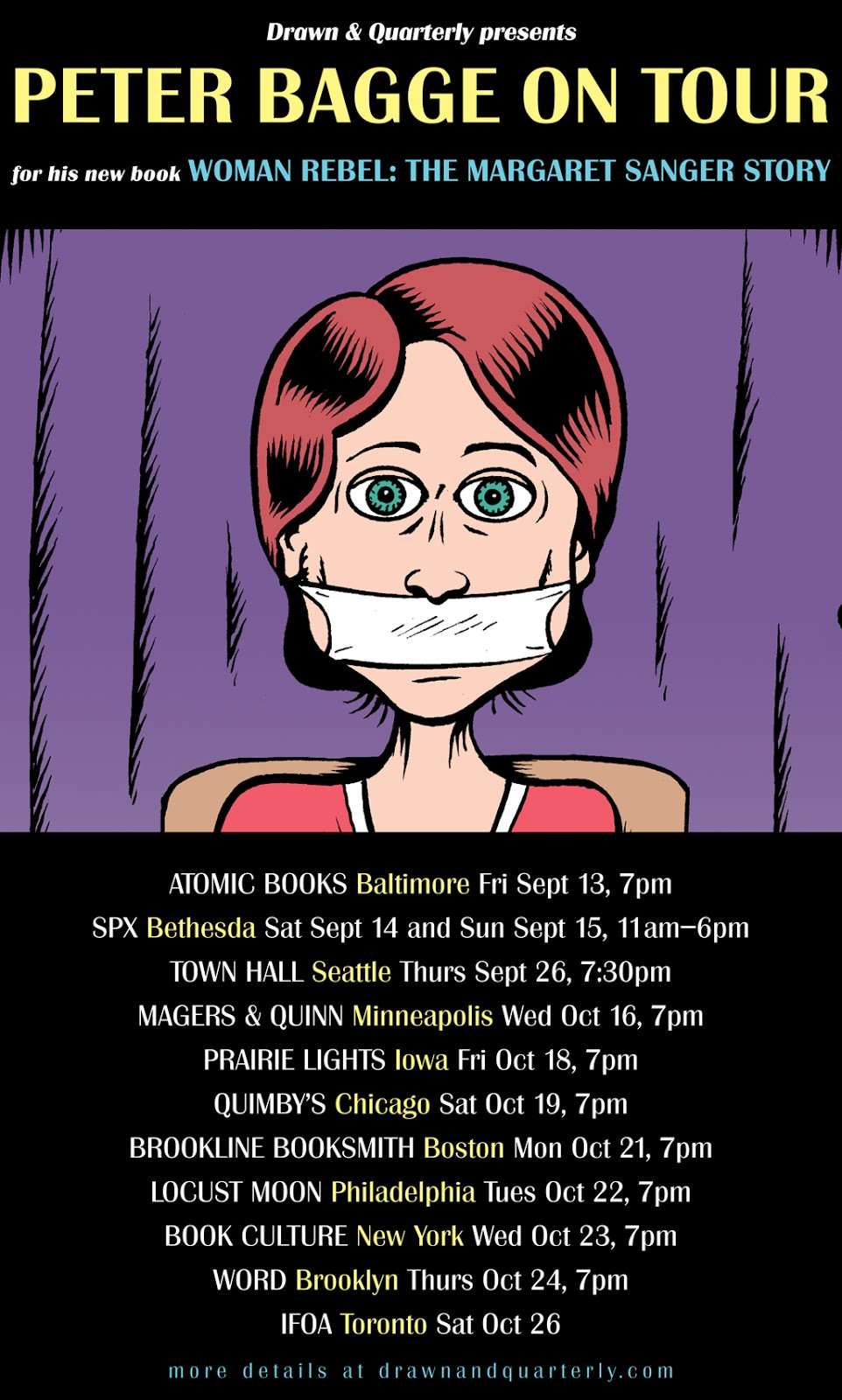 Reason's favorite cartoonist is hitting the road next month to promote his forthcoming graphic biography of Planned Parenthood founder Margaret Sanger. The book is called Woman Rebel: The Margaret Sanger Story.
Here are the dates, via his publisher on this one, Drawn & Quarterly.
BALTIMORE, MD: Friday September 13, 7 pm
Atomic Books, 3620 Falls Rd

BETHESDA, MD: Saturday September 14 + Sunday September 15
Small Press Expo, Bethesda North Marriott Hotel, 5701 Marinelli Rd

SEATTLE, WA: Thursday, September 26th, 7:30 pm
Town Hall Seattle, 1119 Eighth Ave

MINNEAPOLIS, MN: Wednesday, October 16th, 7 pm
Magers & Quinn, 3038 Hennepin Ave S

IOWA CITY, IA: Friday, October 18th, 7 pm
Prairie Lights, 15 South Dubuque St

CHICAGO, IL: Saturday, October 19th, 7 pm
Quimby's, 1854 W North Ave

BOSTON, MA: Monday, October 21st, 7 pm
Brookline Booksmith, 279 Harvard St.

PHILADELPHIA, PA: Tuesday, October 22nd, 7 pm
Locust Moon, 34 S 40th St

NEW YORK, NY: Wednesday, October 23rd, 7 pm
Book Culture, 536 West 112th St

BROOKLYN, NY: Thursday, October 24th, 7 pm
WORD, 126 Franklin St

TORONTO, ON: Friday, October 25-Tuesday October 29
International Festival of Authors, Harbourfront Centre
Be sure to read Peter's previous collection of his Reason work, Everybody is Stupid Except For Me (And Other Astute Observations).