"We Do Know the Zombies…and They are Just Normal People like Anyone else in our Town," says Connecticut Selectman
Skateboarding is a crime, you young punks, says former punky-indie-shocky-horror rocker and filmmaker Rob Zombie and his wife Sherri Moon Zombie, reports CBS Local Connecticut: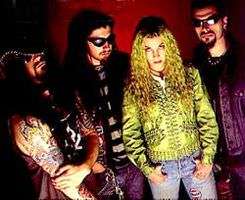 The noise from a new skate park in Connecticut is too much for rocker Rob Zombie.

He and his wife have complained to the Litchfield County town of Woodbury that the park, which opened near their home in April, makes such a racket that it should be moved.

The town is looking into moving the park, but first it's trying to muffle the noise by enclosing the sides of the metal skate ramps, stuffing the jumps with Styrofoam and putting up soundproofing fabric on a fence, said First Selectman Gerald Stomski. The park hours were also reduced and it is closed on Sundays…..

"We do know the Zombies, on a side note, and they are just normal people like anyone else in our town," Stomski said. About 10,000 people live in the well-to-do small town nestled in Litchfield Hills, known for antiquing…..

The park was opened after two decades of planning at a cost of $53,000, covered partly by the town and partly by fundraising by children and their parents, Stomski said.
Their noise complaint may well be justified–when one person's use of property is an insuperable imposition/assault on another one is a complicated issue and difficult to decide on first principles–but I write about it, because, well, I'm still immature enough, even in modern America, to think it's funny because, well, it's Rob Zombie.