Pistol Permit Applications Soar in Connecticut Town Known for School Shooting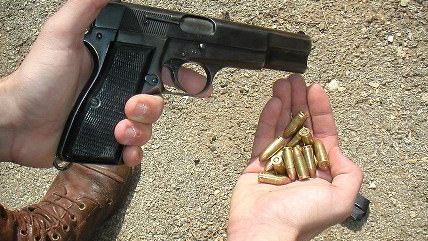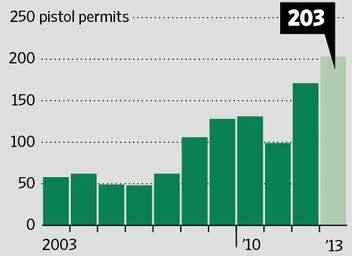 In the wake of the bloody shooting at Sandy Hook Elementary School in Newtown, Connecticut, the media had a tendency to portray residents of the town as unified in their support for tighter gun restrictions. In January, the AP reported, "[r]esidents from Newtown, Conn., are joining a march on Washington for gun control." April brought a WTNH story that "residents of Newtown…are pushing on to make sure votes on an assault weapons ban and a ban on high capacity ammunition magazines comes before the Senate." But the town's residents have always been like people everywhere — diverse in their viewponts and divided over the proper reaction to the mass murder committed by Adam Lanza. Now, as noted at Reason 24/7,we learn that applications for pistol permits are surging among Newtown residents.
At the Wall Street Journal, Joseph de Avila and Alison Fox write:
NEWTOWN, Conn.—The number of people seeking permits to buy guns has surged in this town following the December massacre of schoolchildren by a local man, even as the parents of some victims had urged stricter weapons laws nationwide.

Through July 24, more than 200 people in Newtown have received new local pistol permits, according to a review of local records, surpassing the 171 new permits issued for all of last year. Such permits are prerequisites for Connecticut permits that allow people to purchase and carry pistols as well as rifles or shotguns.
Newtown residents have never spoken in unison when it comes to preferred policy responses to the school shooting. Mark Mattioli, father of a child killed at Sandy Hook, publicly opposed gun restrictions. But his opposition to restrictive laws was given so little coverage that some columnists wondered if he was being deliberately excluded from news stories because of his against-the-current views.
The Journal story confirms that Mattioili is by no means alone. While it quotes people on both sides of the gun issue, it varies from earlier coverage simply by letting 48-year-old resident Bill Stevens, say, "I think people realize that you can't call the police all the time and expect them to save you. It's sinking in to some folks that 'I need to take responsibility for keeping my family safe.' "
Gun sales throughout Connecticut are on track to surpass last year's sales by October. That tracks with the national spike in gun sales as Americans rushed to beat proposed gun restrictions touted by the president and members of Congress. Restrictive gun bills failed at the federal level, and sales seem to be settling down in response. But Connecticut lawmakers did jam through new restrictions on their constituents on an emergency basis, which began kicking in at the beginning of July. Residents of the state have plenty of reason to continue their buying frenzy to beat the new rules.
Despite media claims to the contrary, Newtown residents are as divided as other dwellers in the Nutmeg state. Those who disagree with the rush to restrictions are helping to drive the surge in gun sales, and applications for pistol permits.
Of course, even after the new restrictions are in place, history suggests that they'll be most effective at breeding defiance and a black marget for guns,